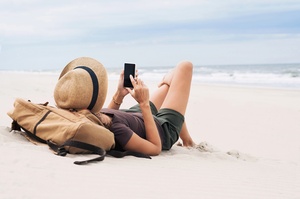 Maybe you've been dreaming of the sun, surf, and sand for months now, or maybe you've just decided on a spur-of-the-moment visit to the island for a little R and R—whatever the reason, Coronado makes an excellent vacation spot. With so many things to do, see, and eat on the island, you'll want to be ready to hit the ground running as soon as you get here. 
Make sure you're prepared for your trip to paradise, and don't forget to pack these 10 items.
1. Sunscreen 
Fun in the sun can quickly turn into unwelcomed pain if you forget to pack—and apply—some sunscreen. You can expect year-round sun here, so sunscreen should be at the top of your packing list no matter when you visit. Don't forget to reapply as needed, especially if you're planning on spending the day soaking up the sun while out on the beach, green, or bike trail.
2. Camera (or Phone) 
If you don't carry a physical camera anymore, at least make sure to keep your phone handy to quickly capture your favorite vacation moments. If you do fancy yourself as a photographer, this would be the trip to bring your camera. From the twinkling lights of downtown San Diego across the bay to dolphins playing in the waves to cranes flying over the San Diego Bay Wildlife Refuge, there are plenty of opportunities to get a frame-worthy shot.
3. Portable Charger
You'll most likely be out and about all day, but you don't want the lack of outlets to impede your day of fun. Pack a portable charger so that you have access to your phone at all times. It'll come in handy for pictures, maps, and even to make a reservation at one of the many hot spots on the island.
4. Swimsuit
You can't come to Coronado without hitting the beach! Packing a swimsuit will ensure you're ready for all water activities from swimming to surfing to paddleboarding. The Coronado Inn even has a pool for days when the ocean water is too cold to enjoy.
5. Hat
Even if you've slathered on sunscreen, you'll still want a hat to help you keep cool. A big floppy hat is perfect for lying out on the beach, and a baseball hat will help shade your eyes while you're golfing, running, biking, or just walking around the town.
6. Light Jacket
It's usually warm and sunny in Coronado all year long, but the nights can get a little chilly, even in the summer. We always recommend dressing in layers so you're ready for any weather. A light jacket or cardigan will keep you warm (but not too warm) for those rare instances when the temperatures dip below 60 degrees.
7. Walking Shoes 
The majority of the attractions on the island are all within walking distance of each other—so be prepared for a lot of walking! Be sure to pack some comfortable walking shoes to help you make it through all the steps you're bound to log. That might mean a pair of sneakers or just a really comfortable pair of sandals; the choice is yours.
8. Beach Essentials
If you're planning on spending some serious time out on the sand, make sure to pack everything you'll need to make the most of it. We recommend a swimsuit cover up, sunglasses, goggles, and your favorite beach read. Other essentials, like footballs, boogie boards, sand castle supplies, coolers, and beach chairs can be picked up for relatively cheap at shops around the island.
9. Snacks, Drinks, Cooler
You don't necessarily have to pack these into your luggage before you get to the island, but you'll definitely want some snacks, drinks, and a cooler to take with you while you're out and about. With the Coronado Inn as your HQ, you can take a quick trip to the grocery store and stock up on everything you need to get you through your vacation. Our kitchenette suites also give you the tools and appliances to make your own breakfast, lunch, dinner, and snacks to take with you on the go.
10. Your Reservation Confirmation at the Coronado Inn 
An amazing vacation in Coronado starts with booking a room at the Coronado Inn. We're located in the heart of the island and are close to all the shops, restaurants, and activities that will make your trip memorable.
Share on Facebook