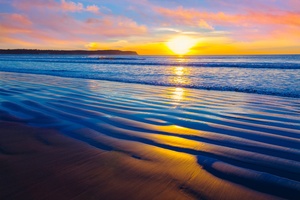 When the temperatures start to plummet elsewhere, and you begin longing for blue skies and blue water, take a trip to Coronado. Not only does our island have sunshine year round, it also offers many ways to take advantage of it.
Pack your shorts, sandals, and sunblock because here are 10 ways to enjoy the myriad of sun-filled "winter" activities around Coronado.
1. Dip Your Toes in the Water 
If you're in Coronado for the winter, the first thing we recommend doing is heading out to the beach. Where else can you dip your toes in the water (or fully swim, if you can stand the colder water temperatures) while the rest of the country is fighting off frostbite? 
2. Roast a S'more on the Beach 
Okay, maybe the water's a little too cold. That doesn't mean you can't still enjoy the beach! The Hotel Del will set up a bonfire and s'more station for you, or you can do it yourself at one of the bonfire pits further up the beach.
3. Catch a Wave
Winter tends to be a little less crowded in Coronado, and that includes the waves as well. If you've never surfed before, take advantage and learn without the added stress of someone dropping in on your wave. 
4. Jet Ski on the Bay 
If surfing isn't your thing, you can still make it out on the water for some action. Trade in the waves for the Bay and jump on a jet ski to get your blood pumping.
5. Hit a Hole in One
Looking for a golf ball in the snow isn't recommended, and it's not something you have to worry about at the Coronado Municipal Golf Course. With perfect weather year round, you can keep your golf game in tip-top shape, even in the winter, while taking in stunning views of downtown San Diego and the Coronado Bridge. 
6. Dine Al Fresco
Whether it's sushi, pizza, or the perfect fish taco, Coronado offers plenty of places to dine while enjoying the sunshine. Grab a table outside so you can take full advantage of soaking in some vitamin D. 
7. Take Your Dog for a Walk
Our island is extremely dog friendly, so Fido can have plenty of opportunity to appreciate a little sunshine as well. Take your furry friend out to dog beach, out to lunch (see above), or to one of the many parks in Coronado and let them enjoy the warmer weather. 
8. Ride the Bayshore Bikeway
You don't have to be an avid biker to enjoy the sights along the Bayshore Bikeway; it's about six miles around the island and mostly flat terrain. This is one of the best ways to see the sights around the island, including the ferry landing, Coronado Bridge, Hotel Del, and Silver Strand Beach.
9. Grab a Flight…of Beer 
Head to Coronado Brewing Company and order a flight of their popular brews. Flights, which are usually 4 oz. pours, can be customized so you can select your favorite beers or try something new. Winter is a great time for special seasonal brews, or order one (or a few) that you might typically pass on when it's warmer out. 
10. Jump on the Ferry 
While Coronado has much for you to enjoy, you can always take a quick ferry ride across the Bay and spend the day exploring San Diego. Downtown has great restaurants and Balboa Park offers awesome picnicking areas and tons of museums. 
Planning Your Winter Getaway 
Beat the winter blues and book your stay at the Coronado Inn. Nestled in the heart of the island, we offer quick access to restaurants, shopping, and sun-soaked activities. Our affordable rates mean you can book a last-minute getaway without breaking the bank. Click here to book your stay with us today!
Share on Facebook