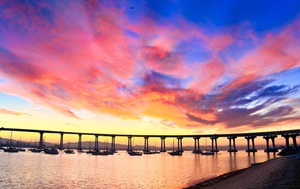 While many regions mark spring as their rainy season, it's almost always sunny in Coronado—no matter the time of year. There are so many activities to partake in during the spring it can be overwhelming to plan out your day. Our team at the Coronado Inn front desk is here to help you plan the perfect day that meets all your expectations, but if you're looking for a place to start, follow this guide to spending a spring day in Coronado.
Breakfast at the Inn
Get your day started with an energizing continental breakfast. You can save time and money by enjoying your first meal of the day at the Coronado Inn. Our complimentary breakfast includes all your morning favorites like coffee, orange juice, fruit, cereal, bagels, and assorted pastries.
Morning Bike Ride
 The sunny skies and cool weather create the opportune environment for a leisurely bike ride. Take advantage of our bike rentals and head out to the Bayshore Bikeway, which is a roughly six–mile, paved trail that goes along the island. And since it's mostly flat terrain, you don't have to be an avid biker to enjoy the ride. The bikeway hits all the major points along the island like the ferry landing, Coronado Bridge, Hotel del Coronado, and Silver Strand Beach.
Lunch at Spreckels Park
After riding around the bay, you may work up an appetite. Grab a quick bite (we like Which Wich, Panera, Burger Lounge, and Lobster West Coronado) then head to the park for a picnic. You can bring a towel or blanket—and maybe a light jacket—or dine at one of the picnic tables at the park. The sunshine, green grass, and chirping birds will only enhance your al fresco lunch and remind you why spring is such a special time of year.
Check Out the Artwork at the Coronado Public Library 
Once you're done with lunch, cross Orange Avenue and check out the Coronado Public Library. There are several significant pieces of public art and fine art within its building. Two fresco murals—"El Dia del Mercado" and "Canasta de Flores"—were painted by artist Alfredo Ramos Martinez and date back to 1938. The Children's Library entryway features Wizard of Oz-inspired glass panels, and the Spreckels Reading Room showcases a granite sculpture and tapestry both by Donal Hord, as well as a framed pastel painted by Alfredo Ramos Martinez.
Quick Dip in (or Walk Along) the Ocean
If you're brave enough, you can take a quick dip in the ocean, or take a surf lesson since the waves won't be as crowded; we say brave, because even though it's sunny year round, the water doesn't really heat up until mid-summer. That doesn't mean you should skip the beach, though; spring's sunshine will keep you warm enough for a walk along the shore to help you burn off your lunch. 
(If the Pacific is too cold, but you're longing for a plunge, you can always cannonball into our pool at Coronado Inn. We keep it heated and ready for a swim all year long.)
Dinner at the Ferry Landing 
After a day of activities, use your time at dinner to wind down. The Ferry Landing has delicious dining locations and mesmerizing views of downtown San Diego. Have a glass of wine (or two) at Il Fornaio along with some Italian cuisine; or choose a cuisine that reflects our southern neighbors and opt for a margarita and Mexican fare at Candelas on the Bay. Don't forget to end your night on a sweet note with dessert at Coronado Cupcakery or Choco Amore.
Book Your Spring Vacation at Coronado Inn Now
When you're planning your beautiful day in Coronado, you need a wonderful place to stay, of course. Located at the heart of the island, Coronado Inn places you in close proximity to all the restaurants, shops, and activities to make your spring vacation a perfect one. Visit us online to book your room today. 
Share on Facebook