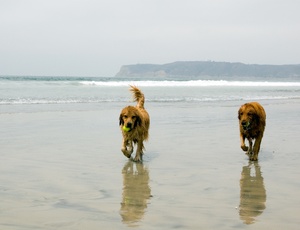 There are several things to consider when booking your stay in Coronado. When you're looking to save money without sacrificing comfort or quality, a hotel's amenities are key in helping you stay on budget during your trip. At Coronado Inn, we offer our guests many little luxuries to enhance their stay without breaking the bank. So next time you stay with us, make sure you take advantage of these seven (totally free!) hotel amenities.
Wi-Fi 
Internet access has become so prevalent, you wouldn't think twice about free Wi-Fi when you travel. Believe it or not, there are some hotels—most of them being branded chains and very pricey luxury accommodations—that are still charging their guests for Wi-Fi. You won't have to worry about shelling out for extra fees to cover your internet access at Coronado Inn—we gladly give all our guests complimentary Wi-Fi. After all, we know how important it is to check your business e-mails and/or post all the vacation photos you take.
Swimming Pool
We know that it's very likely you're visiting Coronado because of our glistening beaches, but that doesn't mean your swimming solely needs to take place in the sea. When you want to take a dip but don't want to deal with the throngs of sunbathers lying across Coronado Beach, all you have to do is make it down to our pool. You can really relax on our poolside chairs or get in a quick workout by swimming some laps—totally up to you. We just recommend slathering on the sunscreen.
Kitchen Unit 
Whether you're choosing to eat healthy or trying to save money, eating out for every meal while you're on vacation can add up (in calories and dollars). Take advantage of our kitchen suites (with a fridge, microwave, and stove-top burners) and hit the nearby grocery store to make a home-cooked meal while at our Inn. You can also take advantage of our BBQ grills and add a little extra flavor to your meal.
Memory Foam Beds 
After a long day at the beach or exploring, you'll be more than happy to tuck into a comfortable, memory foam bed. A good night's rest will leave you with the energy to enjoy your stay with us and the ability to take advantage of Coronado's perennial sunshine.
Front Desk
If you need help planning your trip or getting around the city, our front desk is ready to assist you. We pride ourselves on service and keep our front desk staffed 24/7, with a knowledgeable, friendly, and helpful team. We can help you navigate your Coronado adventure, find the very best place to eat, decipher your travel woes, and find family-appropriate activities (if necessary). All you have to do is ask!
Pet Policy
Our island is extremely dog friendly, so it would be a shame to leave your furry friend at home. At Coronado Inn, we allow up to two pets per room (dogs or cats) for a low $15-per-night fee for each animal. Not every hotel offers a lenient pet policy, and many of the ones that do, charge a hefty fee. Take advantage of the opportunity to have your four-legged friend accompany you on your trip, and visit one of the many dog-friendly beaches while you're here.
Location
While it's not technically an amenity, you should definitely take advantage of a hotel's location. If you're looking to save money, booking a place to stay near main attractions and dining will greatly reduce the cost of transportation. Coronado's walkability is hailed by many of our visitors, and the Coronado Inn is at the heart of the city. You can walk to beaches, parks, restaurants, grocery stores, and even to the Ferry Landing, which will take you into downtown San Diego. 
At Coronado Inn, we welcome you to take advantage of all the amenities we have to offer. Visit us online to book your stay today.
Share on Facebook