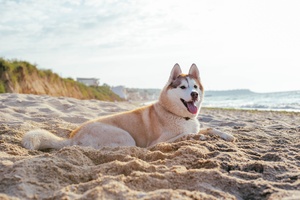 What's the point of bringing Fido to the beach if he has to hang out at the hotel the entire time you visit? While we pride ourselves on the caliber of our rooms at Coronado Inn, we know that your pup doesn't want to spend the entire day stuck indoors.
Luckily, you've chosen to embark upon one of the most dog-friendly cities in America. Skeptical how such an internationally acclaimed beach destination can claim such a title? Never fear, we have countless dog enthusiasts backing our claim. In fact, Dog Time ranked San Diego as the 8th Dog Friendliest City in America. 
One of the major ranking factors boiled down to San Diego's dog-friendly beaches. There was even mention of our annual Dog Surf-A-Thon. Their number one rank of Portland had nothing on that event.
To venture back to the point, you and your furry friend can enjoy all the perks of setting your sights on a beach getaway. To help speed up the process, here is a list of the best dog-friendly beaches in San Diego. Each of these allows off-leash play.
Coronado Dog Beach 
Arguably the best dog beach in the county, Coronado Dog Beach blends golden beach, striking views, and the charm of a small town into the perfect destination to soak in the rays beachside. Not only does our soft sand beg for you to go barefoot, it even sparkles with small golden flecks.
You and Fido will enjoy meticulously maintained beaches while meeting other friendly pups and locals.
What this beach lacks in size it makes up for in charm and caliber. Coronado prides itself on keeping the beaches pristine. That being said, both of you will have more than enough room to roam. Additionally, because the island is partially protected by Point Loma, you won't get giant waves here. Rest easy letting your furry ones play in the water.
Insider Tip: If you're running low on doggie bags, restock at the baggie station located at the entrance to the dog beach. If your pup, like most of the dogs visiting the beach, decides to get all wet and sandy, take advantage of the hose on your way out.
Ocean Beach Dog Beach
Ocean Beach hosts the original dog beach, not only in San Diego, but also the United States. Yes, this was the first official off-leash beach area in the entire country. Luckily, countless other beaches in the nation have answered the dog lover's call. This spacious beach pioneered the concept, and it's an incredible beach to let your dogs run free. It's separated from the main beach by a jetty, the Mission Bay Channel and the San Diego River. This helps your pups stay in the leash-free area.
As one of the more popular dog destinations in the area, beach goers will encounter plenty of playmates, human and canine alike.
Insider Tip: Parking in the parking lot fills up during the weekends after 10:30 a.m. Go earlier to find a spot easier.
Fiesta Island 
If you're looking for a place to let your dog really stretch their legs, then Fiesta Island is your venue. The entire island, located in the middle of Mission Bay, gives pet owners a gigantic leash-free option. If you're not comfortable with all the open space, you can check out the enclosed dog area on the west side of the island. A large section of land is fenced off to allow owners peace of mind while letting their dogs get some much-needed exercise.
While we give high marks for room to roam, this park doesn't make any best beaches lists for people. Nestled in the middle of the bay, this man-made island lacks the fine sand quality and sun bathing quality of the other San Diego dog beaches.
Insider Tip: Go early in the evening to claim one of the BBQ pits around the island. Then spend your evening roasting marshmallows or stargazing. If your dog is sensitive to fireworks, you might want to head home before Sea World kicks off their nightly summer fireworks series. 
Know Where You Are
Despite having a plethora of dog-friendly beaches in the area, not every beach is dog friendly. Due to the volumes of locals and tourists visiting our golden shores, many of the other public parks and beaches have strict dog laws. To help keep everyone safe, including our furry friends, the city prohibits dogs during certain high-volume times.
While subject to change, the current regulation for city parks and beaches states:
Dogs are NOT allowed on the beach, boardwalk, or adjacent parks between 9 a.m. and 4 p.m. from Nov. 1 through March 31.
Dogs are NOT allowed on the beach, boardwalk, or adjacent parks between 9 a.m. and 6 p.m. from April 1 through Oct. 31.
At all other hours, dogs must be on a leash. Owners are expected to pick up after their dog.
All of the parks and beaches are well signed, so you can easily double check you're at one of the many dog-friendly beaches before you let your pup off leash.
Booking Lodging
In case you haven't noticed, we are quite smitten with our canine friends. That's why we run a dog-friendly hotel. If you happen to be of the feline persuasion, we don't discriminate at the Coronado Inn. Cats are welcome at the hotel as well! Each pet is an additional $15 a night with a limit of two pets per room. Call our friendly team to talk about booking your pet's stay with us. 
Share on Facebook