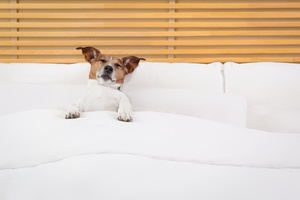 Let's face it; choosing a dog-friendly hotel comes down to more than just the ability to bring your pup into the room with you. Location matters. Opting for a dog-friendly hotel in an oasis of neighborhood dog restrictions only makes for a headache bringing your dog out of the room.
Despite San Diego taking all the glory for a dog-friendly city, it's actually neighboring Coronado that builds in an entire vacation platform for you and your pooch. With an array of swanky cafes to visit, parks to explore, and off-leash beaches to traverse, you and Fido will have a jam-packed itinerary.
When looking to create the perfect dog-friendly vacation that extends beyond the hotel parking lot, consider choosing a stay with us at Coronado Inn in the Crown City.
Coronado Inn—The Best Dog-Friendly Hotel 
Obviously planning your vacation starts with knocking out your accommodations. At the Coronado Inn, we welcome furry companions! Yes, that includes animals in the feline category. Each of our rooms can accommodate up to two furry friends for $15 per pet.
Many pet owners find the options dismal when searching out pet-friendly accommodations. Here, we offer all the luxuries of home at a budget rate. Free Wi-Fi, pool, BBQ, and a continental breakfast. Unfortunately, the pool is only for humans, but Fido can take his swim at the beach. Which brings us to the next section. As promised, our little slice of paradise caters to your furry friend just as much as you.
Off-Leash Beaches
There are few things more gut wrenching than strapping your furry companion to a leash your entire visit. You long to let them loose to stretch their legs, not to mention burn off some of that excess energy. Particularly, if you drove to Coronado, your pup needs the extra space to stretch out even more.
You can't beat Coronado's Dog Beach when it comes to off-leash experiences. Soak in the stunning views of the waves crashing and Point Loma in the distance. As the best off-leash beach in the San Diego region, this pristine dog beach caters to friendly dog owners and provides a large, unrestricted area for running. Not to mention that running on dry sand wears your pup out faster than a traditional jaunt at the park. The perks keep coming.
Make sure to take advantage of the hose on the way out to wash the sand and seawater off of your furry companion.
Dog-Friendly Restaurants
After running around the beach all afternoon, we know you've worked up an appetite. Rather than racing back to the hotel to leave your pup alone, take advantage of the diverse, dog-friendly dining on the island. Since our weather consistently remains solid at sunny and 70 degrees, outdoor dining is ample in 
Coronado. Countless restaurants open up their patios to furry friends and even provide a water bowl and occasional treat for Fido. 
Here are several restaurants that get five bones on BringFido.com:
McP's Irish Pub and Grill
Rhinoceros Café & Grill
Lil' Piggy's Bar-B-Q
Our restaurants get more than just high marks for their scrumptious dishes. Fellow pet owners remark that their experiences were "Wooflisious," "Fur kid friendly," or "Great experience." Check out the entire Coronado dog-friendly selection and reviews on BringFido.
Booking Your Dog-Friendly Vacation
At Coronado Inn, we work to make your dog-friendly vacation the most memorable one yet. From comfortable rooms to all the amenities you need to a central location, staying with us positions you and your furry companion perfectly to explore the delights of our charming island retreat.
Share on Facebook