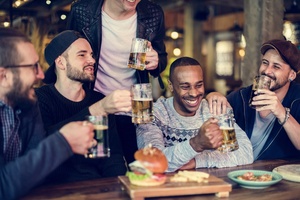 Not to brag, but in Southern California we sure know how to throw a great shindig. Whether you're looking for a family-friendly event, refreshing cold brews or delectable dishes, we have you covered every which way. 
More than that, we specialize in foodie events. To take that even one step further, the large majority of events in our area partner with local brewers to combine good eats with specialty brews.
How can it get better than that?
To celebrate our mouthwatering food scene, we are breaking down events month by month to ensure no matter when you visit, you're able to dig right in. Many annual events don't have dates specified, so make sure to revisit this page throughout the year to see updates.
February
The Big Easy Booze & Bites Tour
Saturday, February 25th 
Who said you have to be in New Orleans to celebrate Mardi Gras? Don't let Fat Tuesday go by without a worthy celebration! Gaslamp has you covered with their Big Easy Booze & Bites tour. The name is fairly self-explanatory. You'll have twenty bites from local eateries, twenty Mardi Gras inspired cocktail sips and enough beaded necklaces to make anyone blush. 
This is a self-guided tour with optional after-party. Purchase tickets here.
March
Taste of North Pacific Beach
Annual March Event – Date TBD
In case you are new to "restaurant walks," as fellow foodies we feel obliged to introduce you. At some point the great people of SoCal realized that we live in endless summer. Combine this with a fitness fascination and restaurants located within walking distance and eventually some fine San Diegan realized that we should create an event where diners walk from restaurant to restaurant to taste food.
Yes, when you attend a restaurant walk, you purchase one ticket to sample dishes at over half a dozen restaurants. It's better than a trip to Costco. 
North Pacific Beach kicks off the season of restaurant walk eating with their event held each March. Blending bistros, cafes, art galleries and music, this community-oriented, family-friendly event covers a cherished part of Pacific Beach. 
Contact Friends of Pacific Beach Middle School for specific dates and ticketing information.
APRIL
Taste of Hillcrest
Saturday, April 15th 
Now that you've been introduced to our restaurant walks, you'll realize that each of our fine neighborhoods uses the event to showcase their culinary selection. The next neighborhood to entice event goers with food is Hillcrest.
Exploring this neighborhood's food scene, you will discover a broad range of different ethnic eateries. From Korean to Japanese to Middle Eastern cuisine and more, this area features over 30 restaurants with a flair for new and intriguing dishes. Don't forget Mexican food. After all, San Diego is pretty much neighbors with Mexico. 
Bikes Boards and Brews
Annual April Event, Dates TBD
Cue music, displays of beach cruisers, racks of historic surf boards, dozens of participating brewers and restaurants eager to win your approval - and you have Bikes, Boards and Brews in a nutshell. This event takes place right on Mission Bay each year. Rather than walking around the neighborhood, all the breweries and restaurants host booths along the bayside.
Ten beer tastings and a nearly endless supply of bites are included in the regular ticket.
Contact Discover Pacific Beach for specific dates and ticket information.
MAY
Coast of Pacific Beach Restaurant Walk
Annual May Event – Date TBD
Some neighborhoods represent such a large dining scene that they have to host multiple restaurant walks. Pacific Beach happens to be such a neighborhood.
This particular restaurant walk takes you along the coast of Pacific Beach around sunset. From experience, we can tell you that many restaurants' sample sizes far exceed anything you'll ever find at Costco (not to mention better in flavor). In past years, almost 30 restaurants have participated. Between the large number of participating venues and ample portion sizes, most participants fail to hit every stop.
Heed our advice, come hungry.
Contact Discover Pacific Beach for specific dates and ticketing information.
JUNE
Taste of Little Italy
Wednesday, June 14th 
Let the eating continue! It's time to dive into the Italian scene in San Diego. While you'll enjoy multiple Italian eateries, honoring the namesake, know that Little Italy's 48 square block radius is home to a variety of different styled bistros, cafes and diners. 
To make their event a little classier, here they issue event goers a passport. Since few people can actually cover that much food territory in an afternoon, you can opt for either the north or south route. Each route will showcase over 15 restaurants and you can choose based on your palate preferences. 
Tickets will be available here soon.
The Taste of Gaslamp
Annual June Event – Date TBD
You can't talk about restaurant walks and skip our iconic downtown San Diego neighborhood. The Gaslamp Quarter claims to be the original culinary tour, operating for over twenty years. To highlight how good their local fare is they bring in 40 restaurants to delight your taste buds. That's a lot of snacking for event goers.
Downtown San Diego ups the ante on a classic event by offering a VIP special that gives guests premier access to live music, beer and wine samples, nightclubs and more.
Contact the Gaslamp Quarter for specific dates and ticketing.
SEPTEMBER
San Diego Restaurant Week
September 24th- October 1st 
If hitting multiple venues in one night is not your thing, take advantage of the spectacular meal deals during San Diego Restaurant Week. This event works with countless restaurants across the city to offer special fixed menus and prices. No matter your budget range, there's a deal here for you. It's also one of the most affordable ways to test out high-end restaurants in the area. 
See participating restaurant and deals here.
Heart of Pacific Beach Restaurant Walk
Annual September Event, Dates TBD 
Pacific Beach is so big they have to host three different walks to cover even a portion of their restaurants. September features their third (and final) tasting event, the Heart of Pacific Beach Restaurant Walk. This event covers the territory along Garnet Avenue from Dawes to Lamont. 
Contact Discover Pacific Beach for specific dates and ticketing information.
OCTOBER
A Taste of Coronado
Every October, foodies make the pilgrimage to what we view as paradise on earth for the best food event around. There's a small possibility we are biased because we love Coronado, but you can determine that for yourself.
While the island may be small, the flavor is robust. The over thirty participating restaurants showcase delectable and eclectic cuisine. You'll meander through both the local favorites and some of the high end dining on the island while completing your walk. Once you finish up, make sure to walk over to our iconic beach to take in the sunset.
Contact A Taste of Coronado for specific dates and ticketing information.
Home Away From Home
Let's put it bluntly – that's a lot of eating. No matter what month you visit our neck of the woods, we're going to put your stomach to the test. Cue the Man V. Food theme song.
You'll need somewhere to recover after putting your eating skills to the test. Luckily for you, at Coronado Inn we know exactly what you need. Our convenient island location includes free parking, easy access to all the listed events, is close to the beach and comes with all the comforts of home to jump start your recovery before your next eating event.
Speaking of which, in case you're hungry after browsing all those gastronomic events, browse our San Diego and Coronado must eats. No waiting for the event here. You can dig in right away. 
If you aren't on the island, but wishing you were, book your foodie getaway today. 
Share on Facebook