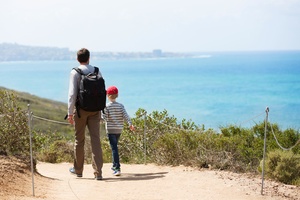 With all the splendors right at your fingertips in Coronado, you can go an entire vacation without ever venturing out to our iconic neighbor San Diego. Should that skyline lure your over, though, here's how to master America's finest city in a single day.
Choose Your Favorite Attraction 
San Diego is jam-packed with world-renowned attractions. Boiling your explorations down to a mere 24 hours means you need to choose the most enticing activity. We'll admit, it might be a bit of a battle, but any one that rises to the top will be well worth it.
Consider a few of the most popular:
If you run a tight schedule, you might be able to fit two in, three if you go with military precision. That might mean skipping out on some of the other more scenic inspirations we have below.
Dish Up
Our neck of the woods treats mealtime like a jamboree. You can't walk around a single neighborhood without a flat out assault of everything from tacos to chicken, and waffles to burger joints galore. Putting our own SoCal flair on display, we've been known to spice up regular dishes too. That's how the burrito met the French fry. We're not even going to broach the beauty behind the bacon burger.
There's no justification for hangry here, although indecisiveness can kick in with all those mouthwatering options you breeze by. To help narrow down the list, check out our San Diego must eats list. This way, you're prepared when lunch and dinner roll around.
Your belly can thank us later.
Taking in Views 
It's not just the San Diego skyline that steals your breath away. With over 70 miles of coastline, we're chock full of images that will steal the social media limelight. For starters, take a gander on the Sunset Cliff's walk. As the name suggests, hitting this gem at sunset claims priority. That being said, it's gorgeous all day. For the more serious hiker, spend an afternoon or early morning at Torrey Pines State Nature Reserve.  
If you left your hiking shoes at home, explore Mount Soledad. This elevated memorial gives you a sweeping view from Mexico all the way to Torrey Pines. That's a lot of terrain.
When packing in all the attractions in a day, we recommend slipping in your scenic escapades into either an early morning or dusk activity. That gives you the meat of the day to invest into some of the more time-consuming activities.
For all the grammers out there, make sure to scope out our best shots on Coronado Island. It isn't just San Diego that wins over your followers' hearts.
It's Just a Ferry Ride Away 
Skip the old narrative with boring highway commutes. When you're venturing out from Coronado, getting around becomes the highlight of the day. Honestly, how can you beat traversing the San Diego Bay to get to your next destination? 
That's the beauty of being an island; you can commute downtown by ferry.
If you visit during the summer months, you can even take in a San Diego Symphony concert at the Embarcadero before a starlit ferry ride back. Now if you're either hesitant to try out the symphony or have a deep fear of classical music, let us introduce you to the Bayside Summer Nights. This challenges everything you've ever thought about the Symphony.
Not to mention it's the best way to wrap up your day in San Diego.
Finish the Day in Coronado 
Despite promoting an entire day in San Diego, we're here to tell you that the true gem of Southern California is actually Coronado Island. Our enticing small town atmosphere, bike ability, world famous attractions, and dazzling beach make our island prime real estate for the best vacation yet.
Located in the heart of the island, at Coronado Inn we provide all the comforts of home in the center of paradise. Book your room today.
P.S. We intentionally left out beach time in our San Diego lineup because we're convinced that Coronado beach is the best in the country. Luckily you don't have to take our word for it. We've won a few awards for it.  
Share on Facebook