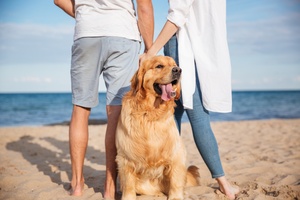 Spring fever is in the air and it's time for you and Fido to hit the road. With countless destinations at your fingertips, you might be wondering how Coronado ranks on the list. More importantly, what Fido will think of the experience once you get there.
Luckily for you, Coronado ranks when it comes to dog-friendly vacays. In fact, we rack up five out of five bones on Bring Fido. If you're still skeptical, although we will never understand who hesitates when it comes to a beach getaway, here are several reasons why Coronado tops any list of dog-friendly vacations.
It's a Dog's Life 
Wandering around town you'll encounter a plentiful supply of doggie water bowls and business owners eager to shell out a few treats your pup's way. If only when we humans walked around we were greeted with snacks and fresh water. Alas, some days a dog's life looks pretty fantastic.
If you humans find yourself hungry, know that pups can join at a plethora of restaurants here on the island. In fact, there are sixteen different restaurants with super awesome pet-friendly policies. Most of them encourage furry friends to hang out on their porches. Since Coronado's average temperature ranges in the low 70's all year, that gives you a perfect excuse to sit outside and enjoy the endless stream of sunshine.
A Place to Roam Free
You could have bacon-flavored water at your pup's every beck and call, but without a place to roam free, the water will go stale and unappreciated. At the end of the day, it's a dog's dream to stretch its legs and run free. You can't find a better place to let your dog do that than our own Coronado Dog Beach. You mix in exquisite ocean views, breathtaking sunsets and plenty of leash-free space.
To be fair, San Diego County also has several dog-friendly beaches. Although we may be biased, we still contend that ours is the best.
Lounging Around
Despite frequent bursts of hyper activity, dogs live to sleep. And sleep. And sleep. Just ask any puppy you see meandering around. Odds are they are just waiting until they can nap again.
If only we could justify that much naptime.
At the Coronado Inn, we take the term "Man's (or Woman's) Best Friend" to the next level. Pups are invited right into your room. Yes, we have a superb pet friendly policy, regardless if you are a dog or cat lover.  For a mere $15 a night, your furry friend can hang out with you in our comfortable hotel room.
See For Yourself
It's no use talking about a dog-friendly vacation. It's just one of those things you need to experience for yourself. Book your room at Coronado Inn today and before you know it, you and Fido will be lounging on the beach basking in the glory that is the Crown Gem, Coronado. 
Share on Facebook