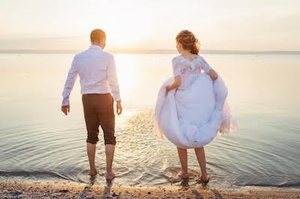 Planning a wedding is stressful, but with miles of beaches, Coronado is a dream wedding destination. With indoor and outdoor venues, easy access to the airport, and wonderful temperatures all year round, both you and your guests will have a great time.
Here's what makes Coronado a great location for your ceremony:
Easy to Get Around
One of the issues with any wedding location is accessibility. Guests have to get from the airport, to the hotel, to the venue, and then on to the reception. It's easy for people to get lost if the locations are far apart. Thankfully, Coronado is close to an airport and is easy for your guests to get around and sightsee.
San Diego Airport
Coronado is located just nine miles from San Diego Airport. It's just a short drive over the bridge into the heart of downtown Coronado. You can arrange shuttles for your guests or they can rent cars for your wedding. With ample street parking in the city, near the beaches, and accessible wedding venues, you can rest ease knowing your guests can easily get around.
Walkability
For those who don't want to rent a car, the city is accessible by foot. Once they get to Coronado, they can walk on one of the many paths along the beach or over to the see the naval base. With ample parks and over one mile of beaches, your guests can spend the day checking out the views.
Stunning Wedding Venues
Coronado boasts beautiful wedding venues both indoors and out. From beaches to yacht clubs, there is a perfect location for every wedding.
Beaches
Coronado is surrounded by water, providing plenty of opportunity for beach weddings. There are three main beaches—North, Central, and South—which provide stunning backdrops of the ocean and sailboats. Central Beach even provides beach accessible wheelchairs at the lifeguard tower!
Yacht Clubs
If you want a panoramic sea view but don't want to be on the beach, you can rent one of the yacht clubs. Coronado Yacht Club offers a view of Glorietta Bay while Coronado Cays Yacht Club offers a view of the San Diego Bay. In both locations, you can rent an indoor or outdoor location for the ceremony.
Parks
If you want an outdoor wedding but not completely on the beach, Coronado has 18 parks to choose from. Not all of the parks allow groups due to the size of the venue, but some of the more popular ones include Glorietta Bay, Centennial Park, and Tidelands. From these three locations, you can get beautiful views of the bay, the San Diego skyline, or the Coronado Bridge to have stunning backdrops for your pictures.
Your Coronado Wedding Home
If you have been searching for a wedding destination that provides easy access, great views, and lovely atmosphere, look no further than Coronado. With a perfect mix of romance and beach-life, you and your guests will feel at home on the island. Check out the permitting requirements for outdoor locations and reserve your venue today. Coronado is a wonderful destination and locations can fill up fast.
Once you're reserved, don't forget to book the lodging for your wedding party and guests. At Coronado Inn we provide the best centrally located, affordable rooms on the island. 
Share on Facebook