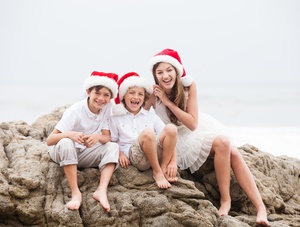 'Tis the season for merriment, cheer, and jubilation! While we may not enjoy the traditional white Christmas, Coronado glistens each holiday season. Our streets light up with spectacular displays, unique holiday events speckle the calendar, and the white sandy beach mirrors any snowscape around, all while enjoying our 70-degree weather and constant sunshine. Add in eggnog, and you've got the perfect recipe for your holiday festivities.
If you're headed to paradise this season, make sure to enjoy Coronado's memorable Christmas and Holiday event lineup.
Holiday Parade & Open House
6pm, December 2, 2016
Basking in the glory of year-round warm weather, we are able to bring the entire community together outside to celebrate the holiday season. While other areas of the country marvel at the idea of a parade in December, here it's a local favorite.
Join us for a delightful display of community designed floats, classic cars, marching bands, illustrious equine presentations, and more. Santa himself kicks off the event at Ferry's Landing, taking wish lists from all the youngsters. Don't forget to check out the infamous snow mountain.
Shortly before 6pm, Orange Avenue closes to traffic in order to transform into a Christmas Wonderland. At 7pm, the giant Christmas tree will be lit, giving the parade the go-ahead to begin down Orange Ave.
Christmas Lights
Within days after Thanksgiving, Coronado's historic homes begin to drape themselves in elaborate light displays. In fact, their displays are so renowned that ParkLife Realty made the decorating season official with a Holiday Decorating Contest. 
Luckily, you don't need to live on the island to take part in the festivities. Just head out to the island for an evening stroll. Pretty much every block has a few homes that approach holiday lighting as an art form.
Ice Skating at the Beach
Select dates from November 24th-January 2nd
Perhaps one of the most unique activities for the holiday season comes down to ice skating at the beach. Each season the Hotel Del Coronado creates an ice skating rink mere yards away from our white sandy beach. While practicing your figure eight, you can look out over the Pacific Ocean.
Once you skate to your heart's content, enjoy a hot cup of cocoa at the coffee shop.
Festival of Christmas
December 2nd-24th
Take jubilation to the next level with Lamb Theater's favorite holiday play! Complete with a memorable soundtrack, this musical follows the story of Jeffery Scott. This 1860 journalist ventures to the Angel's Arms Inn to cure his prolonged case of writer's block. During his stay, he encounters several doses of magic to make for a memorable Christmas experience.
This family-friendly play is perfect for guests ages five and up.
Your Home For Christmas
We adamantly believe home is where the heart is. If you're aiming to follow the "I'll be home for Christmas" adage, then make Coronado Inn your home this holiday season. With comfortable rooms, an enticing pool, and all the amenities of home nestled into the heart of Coronado, we know that our island lifestyle will win your heart over instantly.
Check out our room options today.  
Share on Facebook