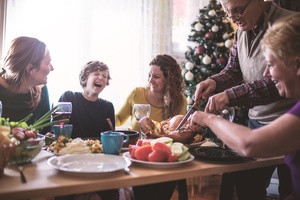 Let's hear those sleigh bells jingle! While we do enjoy endless sunshine all year round, the holiday season is when Coronado Island truly shines. The community comes alive with holiday cheer as visitors and locals gather together to celebrate the season. 
Here are a few of our favorite yuletide events in Coronado and San Diego that will surely get you and your family into the festive spirit.



Coronado Island
Coronado Holiday Parade & Open House
The 42nd Annual Coronado Holiday Parade and Open House is a time-honored family tradition that transforms our quaint community into a holiday wonderland.
Santa himself gets the festivities going as he alights from his Southern California sleigh (the San Diego-Coronado Ferry) and greets merrymakers young and old at the ferry landing. After sharing your wish list with him, check out the legendary snow mountain for some wintery fun.
A stroll down Orange Ave is an excellent opportunity to take advantage of extended shopping hours and pick up some extra stocking stuffers. At 6pm the street comes alive with a magnificent parade of floats, classic cars, and marching bands.
Join Santa at Rotary Plaza at 7pm to light the town's spectacular 25-foot Christmas tree while the community band fills the air with sounds of the season.
When: Santa arrives at 3:20 pm, December 1, 2017
Where: Coronado Ferry Landing, Orange Ave, Rotary Plaza
Lamb's Theatre Festival of Christmas
Every year, Lamb's Theatre delights Coronado visitors and locals alike with heartwarming holiday-themed performances.
This year, a delightful new script keeps guests entertained with the tale of four characters all vying for the same home for Christmas. Hilarious mishaps, joyous discoveries, and a rollicking soundtrack make this family-friendly musical an enchanting event for merrymakers aged 5 and up. 
When: Various times, December 1-30, 2017
Where: Lamb's Players Theatre, 1142 Orange Ave, Coronado
Artisan's Alley Craft Fair
Get your holiday gift shopping done early at the 45th Annual Artisan's Alley Craft Fair. Over 150 local artisans showcase one-of-a-kind, handmade gifts including textiles, ceramics, arts and crafts and more. Local band and choir students serenade fair-goers as they search for the perfect gifts or enjoy a bite to eat. 
All proceeds from the fair go to support the band and choir programs in Coronado's elementary, middle, and high schools and the $2 entrance fee includes a raffle ticket for a chance to win one of 140 awesome prizes. 
When: 9am-3pm, December 2, 2017
Where: Village Elementary School, 600 6th Street, Coronado
Port of San Diego Bay Parade of Lights
One of the most anticipated events of the season, the 46th Annual San Diego Bay Parade of Lights showcases a parade of boats decked out in dazzling holiday lights as they sail around San Diego Bay. This year's theme is Aargh! A Pirate's Christmas, so keep your eyes open for your favorite pirate-decorated boat.
Coronado's ferry landing is an excellent location to observe the nautical parade and has an announcer to share fascinating facts about the vessels and their history.
 When: 5pm, December 10 & 17, 2017
Where: Best viewed from Coronado Ferry Landing
Over The Bridge
Little Italy's Christmas Tree Lighting Ceremony
To spread holiday cheer a little further afield, take a quick ferry ride from Coronado to San Diego's Little Italy neighborhood, where the 19th Annual Christmas Tree Lighting Ceremony draws everyone into the spirit of Christmas.
This exciting family event has arts and crafts for the kids, live music and entertainment, and you can even ride in a horse drawn carriage (remember to snap a photo for your annual Christmas cards!)
Don't miss the magical glow of the brilliantly-lit tower of 1,100 poinsettias in Piazza Basilone, and be sure to stop by Piazza della Famiglia at 6:30pm when the enormous live tree is switched on to light up the night.
When: 4pm-8 pm, December 2, 2017
Where: Piazza Basilone, India Street, Piazza della Famiglia
Gaslamp Holiday Pet Parade
Even your furry family members can take part in the season's festivities at the 10th Annual Gaslamp Holiday Pet Parade. Dress up your pet in its favorite costume and let them show off their best model walk in a lighthearted promenade. With nine costume categories for pets and their families, there's plenty of chances to win, and the pet taking home Best in Show gets to be Grand Marshall of next year's parade!
When: 1pm-5pm, December 10, 2017
Where: MLK Promenade Park, 401 K Street, San Diego
Port of San Diego Holiday Bowl Parade
Even after Christmas Day, the merriment isn't over as celebrations continue with the 46th Annual Holiday Bowl Parade. This family-friendly parade features enormous balloons, classic cars, community floats, and marching bands bringing festive energy to the bayside streets of downtown San Diego.
Streetside viewing is free or you can reserve seats in the grandstand. 
When: 10am, December 28, 2017
Where: Downtown San Diego
Home for the Holidays
There's no place like home for the holidays, and we invite you to enjoy the magic of the season with us at Coronado Inn. Our comfortable rooms and suites have all the amenities of home at affordable rates so your family can enjoy a Christmas holiday with all the trimmings.
Share on Facebook