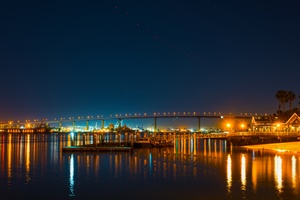 Every day, week, and month is another chance to capture the perfect Instagram picture. Fortunately, our beautiful island of Coronado has no shortage of 'Gramworthy photo opportunities. Here's our month-by-month guide to help you capture a quintessentially Coronado photo for your feed.
January
It doesn't get too cold during the winter in Coronado, so it's a great time to go for an evening stroll down Orange Avenue. Capture the glowing neon of the Village Theater or make your way down to the Ferry Landing, and photograph the iconic lights of the San Diego skyline across the waterway.
February
February marks the annual Coronado Valentine's Day 10k, 5k, and 1 Mile Fun Run. So whether you're single or taken, the day of love can be all about loving yourself. Take a picture with your medal after you cross the finish line, or snap a pic of the bridge as you run under it along the course.
 March
There really isn't a bad month to have lunch outside with your four-legged BFF. Since March 23rd is National Puppy Day, it's the perfect opportunity to take your pooch (no matter how old they are) out for lunch and snap a picture. Let's face it, cute dogs always garner dozens of Likes, and when you pair your pup with the beautiful backdrop of Coronado, there's no going wrong.
April 
The saying "April showers bring May flowers" doesn't really apply to Coronado. Our city only gets an average of 25 days of rain a year, so chances are, you'll be met with sunny skies—even in April. If you're visiting our island, rent a bike (or if you're a local, grab your own) and bike Silver Strand. It's a breezy ride with peaceful views of the San Diego Bay National Wildlife Refuge (to the east) and glimpses of the Pacific Ocean (to the west), so there are plenty of opportunities to take a quick Instagram pic.
May
The Coronado Historic Home Tour takes place every Mother's Day, and it's an opportune moment to get a stunning photo of some of Coronado's most notable homes. From the stunning details to unique angles, you'll leave the home tour with a few images that'll really stand out in your feed. 
June
Coronado's Summer Concert Series kicks off in June, so why not make it the star of a few Instagram pics. Take a few of you and your crew in Spreckels Park or snap one of the band hitting the stage. Either way, it'll be a way for you to kick off your summer (both on the 'Gram and in real life). 
July
Nothing says summer in Coronado like the city's Fourth of July parade and fireworks. Make your followers jealous with shots of your mouthwatering BBQ and pictures of Coronado Beach. And don't forget to show off your patriotism by capturing a photo filled with red, white, and blue!
August
There's no denying that the main draw of Coronado is its beautiful sandy beaches. Head out to the waves this month and capture a picture of the action. You can even bring your canine companion with you to dog beach and snap a few photos of them playing in the Pacific. Soak up the sun (after applying the SPF) and make it your mission this month to capture the best beach picture.
September
San Diego Food Week happens twice a year, one of them being in September. Take this opportunity to try out all the restaurants in Coronado you've been meaning to try and take all the foodie pictures your heart desires. Fill up on delicious food, and fill up your feed. If anyone asks, you're a food blogger and the calories don't count. 
October
No one does Halloween better than the city of Coronado. With hauntingly fun, family-friendly events all month long—from pumpkin painting parties to the literal shut down of Orange Avenue on the big day—there's plenty of opportunity for a memorable Halloween picture. Don a new costume for each event, and your feed will surely become #HalloweenGoals.
November
November has one of San Diego's favorite weeks of the year—Beer Week. Stop by Coronado Brewing Company for deals and special releases. Make your visit 'Gramworthy by snapping a photo of a flight of beer and share your favorite brew with your followers.
December
Only in Coronado can you go ice-skating on the beach. Head over to the Hotel Del Coronado to take that quintessential picture of you, the ice, and the sandy beach behind you. When it's time to hang up the skates, you can grab a drink on the outdoor deck and get a few photos of the setting sun or an awesome Boomerang of you and your friends toasting around the hotel's fire pits. 
'Gram Your Home Away From Home All Year Long
Make the Coronado Inn your Instagram HQ (our free Wi-Fi makes it easy to upload your pics), and you'll have easy access to all the photo destinations around the island, any time of year. We have poolside views that are worthy of their own moment on your feed and amenities that'll make your visit to the island picture-perfect. Check out our room selection here, book your stay with us, and start raking in the Likes.
Share on Facebook