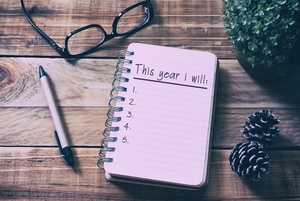 Every new year, people make New Year's Resolutions they hope to keep. Most of these involve bettering themselves—physically, mentally, and/or financially. Unfortunately, many of these resolutions are broken within the first few months of the year.
At Coronado Inn, we're here to help our guests keep their resolutions and make this new year their best ever. Here are a few very common resolutions you'll actually be able to keep while staying at the Coronado Inn.
Get Active
Our location in the heart of Coronado makes it easy for you to head out for a quick jog on the beach, around Spreckels Park, or along the Silver Strand Bikeway. Of course, you can also rent a bicycle and bike along the entire San Diego Bayshore Bikeway (which is a whopping 24-mile trail). Or you can take advantage of our warmer weather and spend the day swimming in the waves or spend an hour or so swimming laps in our pool. And at the end of it all, crash on our memory foam mattresses without the worry of being sore in the morning.
Eat Healthier
Breakfast is supposed to be the most important meal of the day, and you don't have to worry about skipping it while on vacation. We provide continental breakfast every morning, with fruit, juice, cereal, and coffee to help fuel your day. We also offer BBQ grills on site and rooms that are equipped with full kitchens, so you can stop by the grocery store or visit the Farmer's Market (held every Tuesday afternoon at the Ferry Landing) and whip up your own healthy meal whenever you want.
Practice Self-Care
With every passing year, it seems there's more and more importance being placed on self-care. The act of taking a vacation is probably a step in the right direction for your mental health; it allows you to get away from the daily stresses of home or work and relax in a new, enjoyable environment. Being an island, Coronado moves at a slightly slower pace than the rest of the world, so it's easy to slip away for a run, nap, swim, meditation, or yoga class—whatever it is that helps you recharge.
Save Money 
There are plenty of free things to do around the island, and staying at the Coronado Inn puts you right in the middle of the action—while keeping your vacation on budget. Spend the day at the beach, meander around the Ferry Landing, have a picnic in Spreckels Park, or explore the tide pools without spending a dime. 
When you book a room with us, you also get to enjoy amenities like a swimming pool, Wi-Fi, and a continental breakfast at no additional cost. Plus, access to a kitchen and BBQ grills means you can cook your own meals instead of eating out, saving you money while visiting with us.
Learn Something New
Many people make it a point to learn something new in the new year. And a vacation to Coronado gives you a number of opportunities to do so. Take a painting class (there are multiple venues just across the Bay in downtown San Diego that host paint nights), put a new language to the test by visiting our neighbors to the south, discover the history of San Diego (by visiting the USS Midway Museum or one of the many museums in Balboa Park), or catch your first wave by learning to surf. You may not become a pro surfer or fluent in Spanish on your first go, but that just means you'll have to visit us again for more practice. 
Book your stay with the Coronado Inn, and we'll help you keep up with your resolutions. Check out our room options and availability here.
Share on Facebook