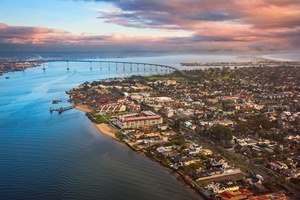 Once you book your tickets on your paradise adventure, you run into the question, "Where do I stay in Coronado?" Never fear, we're here to make the case why Coronado Inn is going to hit every criteria you've added to your list.
Family Friendly
Vacation is more fun when you get to share memories with the entire family. Pack everyone's bags knowing not only is the island a perfect place for multiple generations, at Coronado Inn we cater to the entire tribe. 
For the little ones, hit the pool early. Grams and gramps might want a little R&R, so have them pull up a lounge chair and enjoy a classic novel. As for you, pop out that kindle and take advantage of the free Wi-Fi poolside to download the latest book to hit the market.
Our array of room options allows you to place family members in the best way to keep the politics at bay. After all, it's your vacation! The suite setup also encourages longer trips, giving you the option to cook right there in the room.
Then grandma and grandpa can show the kiddos some of those secret family recipes.
 Amenities Included 
No one wants to invest a small fortune into a vacation only to be nickeled and dimed every step of the way. At Coronado Inn, not only do we keep our prices affordable, we include all the amenities. That poolside Wi-Fi we mentioned? Not only is it free, you can enjoy it in your rooms or the lobby as well.
Eager to skip the hunt to find a breakfast everyone will enjoy? Opt for our free continental breakfast every morning. 
Doesn't Break the Bank
We pride ourselves on being the leading budget accommodation on the island. Regardless of if you're spearheading a romantic getaway for two or bringing the whole Brady Bunch along for the ride, we want there to be enough leftover in the budget to explore the island, dine by the shore, and shop along Orange Ave.
Free Parking
While it's debatable if you even need a car on the island, we provide first come, first served free parking. No hidden fees or fancy valets to tip. Let's agree to keep it simple and easy. 
Book Today!
Don't hesitate: book today! Especially during the high season, we've been known to book out fast. Take advantage of the best budget- and family-friendly option of the island and secure your room today. 
Start your trip to paradise here.
Share on Facebook