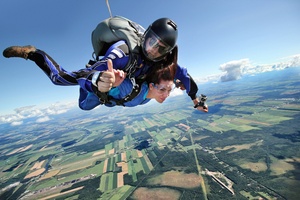 While we can't imagine needing anything more than endless golden beaches and that glorious SoCal sunshine, many travelers yearn for something a little more unique to satisfy that adventurous spirit. Some even seek out that addictive adrenaline rush that comes with extreme sports. Luckily our slice of paradise offers a plethora of entertainment to complement the beaches.
For the traveler looking to knock unique, different, or just plain intriguing off their travel list, check out this out-of-the-box activities list.   
Skydiving
What could spur more adrenaline than jumping out of an airplane? We put skydiving at the top of the extreme list because, well, there are few things that can be more extreme than this.
Not to mention the views of the Pacific Ocean you will savor on the high-speed chase to landing.
Southern California enjoys several different skydiving companies. Check out Yelp to discover the highest rated ones and to see what other fliers have said.
Alas, we've enjoyed having our feet firmly planted on the ground. The only time we've enjoyed that feeling of suspension is when hitting the pool.
Drive a Sports Car
Has your dream always been to slip into the driver's seat of a Lamborghini? What about testing out speeds in a Ferrari or giving a Porsche a spin out on the track? Well you're in luck. All three models happen to be yours for the taking, well driving actually, thanks to Extreme Adventures.
Strap in because you'll be hitting the track in (almost) record speeds. Don't worry; you'll have a professional co-pilot with you the entire time. If you're a bit too young to take the wheel or not as confident around the turns, you can opt for the passenger seat. All the same thrill, but a little less adrenaline.
Spend the Night in the Wild
Get ready to mingle the roaring and the snoring with a night in the wild at the San Diego Safari Park. Enjoy after-hours guided tours, early morning sightings, and more that are exclusive to those enjoying the Roar and Snore program. Many animals' activity picks up at nightfall, so this is almost a guarantee to see the park at its most active point.
Swim with the Leopard Sharks
To get a little more in-person encounter, take an open water dive with the leopard sharks. Yes! San Diego offers several snorkeling trips out of La Jolla where these sharks call home.
Just in case we got your adrenaline a little too high, know that leopard sharks are virtually harmless. In fact, you'll often find that they can be quite shy. As SD Expeditions points out, if you can swim you can snorkel.
This is great for water lovers and animal enthusiasts looking for more of an authentic interaction.
SUP at Night
For the action sport aficionado, try out a beloved sport with a twist. Embrace stand-up paddle boarding (SUP) in the dark. Don't worry. You won't be completely in the dark. Each board comes with a series of lights below the board to help light the way.
Reducing daylight adds a whole new spin to this favorite pastime. For starters, going shortly after or around dusk will treat you to a splendid display of colors lighting the shoreline with the lights from your board twinkling in the waves.
Check out Bike and Kayak Tours to explore their nighttime options.
A Safe Haven for the Night
While it's fun to get that adrenaline pumping during the day, it's even better to have a quality night sleep. When you're not snoring with the animal kingdom, consider staying with us at Coronado Inn. Nestled into the heart of the most gorgeous island this side of the Pacific, we provide all the comforts of home at a budget-friendly price. 
The island provides not only a plethora of extreme activities, but we also have a full plate for those who enjoy a much slower pace.
Share on Facebook