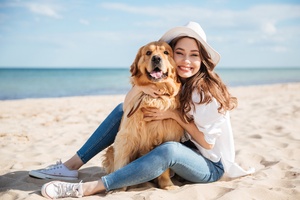 Visiting California doesn't necessarily cry out, "cheap vacation." Well, we're here to tell you that you can actually enjoy our gorgeous coastline and vibrant town all while staying within a budget.
In fact, Coronado actually has several free activities for families and couples to enjoy. It's all part of what makes Coronado one of the best vacation spots in the country.
1) Discover the Golden Beach
Not to brag, but Coronado's world-renown beach continually wins titles such as, "Best Beach in America." It's easy to see why with the continuous mile-long stretch of golden beach, dramatic sunsets, and family-friendly neighboring community.
The best part? Unlike other beaches across the country, there are no fees to visit. Coronado's stretch of beach is public, meaning you're welcome to enjoy it at your leisure. You can even find free parking nearby. 
2) Meander Down Orange Avenue
After being sun-kissed at the beach, take a stroll down our charming Orange Avenue. Window-shopping doesn't cost a dime and gives you the chance to meet a lot of friendly locals. If you extend your walk into the neighborhoods, you can enjoy the eclectic architectural style that makes Coronado homes so memorable.
3) Art in the Park
Each month brings two Sundays filled with stunning oil paintings, jaw-dropping photography, and magnificent, hand-crafted jewelry. Coronado's Art in the Park at Spreckels Park is absolutely stunning. If you're in town on the first or third Sunday of the month, this is a must hit event.
4) Coronado Concert Series
It's not only the arts that take over Spreckels Park. The music scene captivates audiences every Sunday from the end of May to mid-September with the Coronado Summer Concerts series. This free series features a variety of different artists, ranging from jazz to country to classics and more.
5) Build Sandcastles
What visit to the beach is complete without attempting a magnificent sandcastle? While a little more efficient with a bucket and shovel, you can build out impressive sandcastles all by hand. Bonus points for sparking creativity as you go.
6) Visit Spreckels Park
You don't need the excuse of art in the park or a concert series to enjoy Spreckels Park. From dancing under the gazebo to letting little ones explore the playground to discovering a good book under one of our magnificent palm trees, the options for enjoying the park are endless.
7) Explore the Tide Pools
Discover the life brimming just below the ocean surface by visiting the Coronado tide pools. Once the tide retreats it reveals an incredible variety of crabs, fish, and even starfish living on our cherished island.
For the best tide pooling locations, head just south of the Hotel Del Coronado. Make sure to time low tide perfectly by checking out the surf forecast.
8) Stroll the Boardwalk
Some days you're eager for the ocean breeze, but want to avoid the endless amounts of sand in your shoes. If that describes you, head out to enjoy the Coronado boardwalk. This path stretches around most of the island giving you sweeping views of both the San Diego Bay and the Pacific Ocean.
Make an adventure out of it by adding in a bike.
9) Visit the Farmers' Market
Every Tuesday the Farmers' Market takes over the parking lot at Ferry Landing. From 2:30pm-6:00pm, you can meander through stalls showcasing farm-fresh produce, homemade products, and even a few artisans. 
10) Grunion Running
In case you aren't familiar with grunions, they are a type of fish. These little guys vacate the ocean taking over the beach to spawn during the wee hours of the night. It's one of those adventures that you need to experience to fully understand.
The grunion running season is in March, June, July, August, and September. Find the specific dates, times, and locations here.
11) Host a Bonfire
The city of Coronado maintains eight fire pits at Coronado's North Beach. These sites are perfect for a group gathering or romantic evening watching the sunset. Bring along a few snacks perfect for roasting to make an entire event out of it.
You can find the fire pit location on this city map. Make sure to know the rules before you go.
12) Explore Dog Beach
Our beaches aren't just for humans. We have an entire section dedicated to man's best friend. If you have a furry companion, bring them out to enjoy the beautiful setting at Coronado's dog beach.
If Rover joined the trip, there are actually several dog-friendly activities that you can do, including lodging options at the Coronado Inn. Find out more here.
13) Discover Tidelands Park
Giving the island's best view of the Coronado Bridge, Tidelands Park blends together beach and open grassy area for the most versatile park on the island. Whether you pack a Frisbee, bring along a bocce ball set, or want to work on those sand-castles, this is the place for you.
Extending the List
When you stay at Coronado Inn, you can include activities like pool swimming, Wi-Fi surfing, and enjoying a continental breakfast to the list of free activities. We believe that guests should enjoy these luxuries when they book, rather than being nickeled and dimed by their accommodation.
Guests of the Coronado Inn enjoy all of these amenities free of charge. Book your room today!
Exploring Cheap Options
While the best things in life are free, it doesn't hurt to add in a few cheap outings to your Coronado adventure. From biking to getting out on the water, there are a lot of budget-friendly ways to enjoy Coronado. Check out all of the options here. 
Share on Facebook