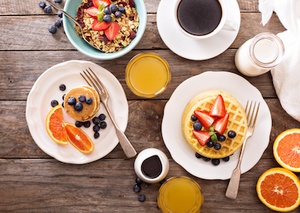 Breakfast, in some ways a forgotten meal, loses sway with many travelers. Food-seekers scour through countless reviews analyzing the best lunch spots, cheapest happy hours, and Instagram worthy dinners. Breakfast falls to the wayside.
In fact, some individuals even skip this meal entirely, clutching their coffee in hopes of forgetting the luxuries of this beloved meal. 
To help amend the prejudice against the early morning meal, we've compiled a list of the best breakfast houses on our humble Coronado Island and just over the bay in San Diego. Once you dig into the scrumptious fruits of their early morning menu, you will never again make the mistake of skipping out on this cherished meal.
On Coronado Island
In addition to our world-renowned beach, active lifestyle, and extremely walkable city, we enjoy a myriad of fantastic eateries.
Crown Bistro Restaurant
For those fantasizing about perfectly crafted artisan breakfasts rich with flavor, then the Crown Bistro Restaurant is calling your name. Exploring the menu comprised of dishes like banana foster French toast, eggs Benedict, and artichoke scrambles awakens taste buds to the endless possibilities of fine cuisine. 
A local favorite, visitors will often encounter a line when dining at the bistro.
Night and Day Café
Guests with a hankering for quality café food in search of portion sizes meant for small countries need to head to Night and Day Café. Eating here is not for the weak-stomached. Portions far exceed expectations with countless guests documenting the sizes of pancakes or burritos on Facebook. When the waitress brings your plate, you feel as if she is issuing a challenge rather than delivering food.
This café seamlessly blends an American and Mexican menu, creating drool worthy options such as burritos with a side of hash browns or bringing guacamole into play with an omelet.
If you're frequently a night owl, never fear, Night and Day Café serves their breakfast menu all day.
French Crepe Café
For those looking to enjoy the delicacies of breakfast, savoring flavor over portion size, explore French Crepe Café. Bringing the art of crepe making to southern California, this café focuses on infusing a modest delicacy with flavor. Their simple menu gives several options for crepes, ranging from healthy options to ones reminiscent of French cuisine. They also take a local spin through offering the SoCal Breakfast Crepe featuring avocado and aioli sauce.
Over the Bridge in San Diego
While we would argue the flavor on the island merits spending your entire stay on our side of the bridge, we have to admit that neighboring San Diego serves up scrumptious breakfast offerings as well.
Fig Tree Café
Exploring the gourmet food world will take you to Fig Tree Café. The dish combinations spark creativity while making your mouth water. From Andouille sausage omelets to smoked salmon to breakfast sushi to meatloaf hash, the creativity alone captivates your attention. In fact, they even have an entire section of the menu exploring different eggs Benedict options.
The flavor fulfills the promise in the description, offering filling portion sizes as well. Don't limit your order to just food. Their drink selection comes robust with flavor as well.
Broken Yolk Café
Delivering on all of the classic breakfasts, this café has become a beloved local favorite. You'll discover a wide selection of omelets, pancakes, waffles, and egg varieties. Like many places in San Diego, they have an incredible south of the border inspired offering on the menu.
Don't let the simplicity fool you. The Broken Yolk Café became a fast favorite in the community due to its commitment to quality foods. They also perfected the chicken and waffle plate.
Make sure to order the fresh orange juice. Unless you grew up on an orange farm, it's unlikely you've ever enjoyed juice so fresh and delicious.
Create Your Own Breakfast at the Coronado Inn
Do you have a favorite breakfast dish not mentioned in the list? Make sure to enjoy it while exploring our slice of paradise through booking one of our kitchen suites at the Coronado Inn. These rooms are perfect for guests looking to extend their time in paradise or merely cut down on food costs along the way. The possibilities are endless with our full kitchen.
You can easily whip up all of your breakfast favorites in the comforts of your Coronado home.
If you're headed out on an adventure, make sure to swing by our continental breakfast. We offer an assortment of fruits, pastries, cereals, coffee, and juices to give you the energy to kick start your day.
For all the foodies eagerly anticipating their SoCal getaway, make sure to check out our guide to the San Diego must-eats. 
Share on Facebook