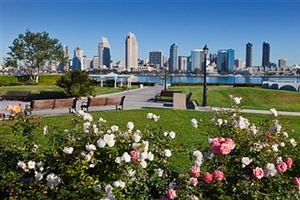 Sight Seeing
Two of the must hit sites in Coronado can be done absolutely free!
"Best Beach in the United States"
Consistently voted the "best beach of the United States," Coronado's golden shoreline at Central Beach is sure to impress. The best part: you can enjoy the gentle surf, soft sand and stunning views all for free!
Leave the car on Ocean Boulevard or Ferry Landing Marketplace to take advantage of free parking.
There are several fire pits scattered throughout Coronado's beaches, so pack marshmallows, chocolate, graham crackers, roasting sticks and firewood for your own bonfire.
Ferry Landing
The Ferry Landing is located directly across from downtown San Diego on the East side of Coronado. The Ferry Landing itself provides a great vantage point for looking out over the bay over downtown and the Coronado Bridge. It also is full of shops, dining and the Coronado experience. 
Activities
Coronado is full of great activities to fill your day, and many of them are budget friendly.  
Bike Coronado
Coronado has over 15 miles of dedicated bike paths. And with average temperatures in the 70's and more sunny days than not, few site seeing options compare to visiting it by bike.
Bike rentals start at $9 an hour. If you have young kids, look into options with bike trailers or child seats. Most bike shops include a map with bike routes and trails to help you enjoy your ride. 
Kayak the Bay
Get out on the water, enjoying the beautiful bay via kayak! No matter if you're a beginner or an adventurous kayaking pro there will be plenty of places to go. Fit more fun on the kayak with tandem or even three person kayaks. 
Kayak rentals typically start around $15 for a 60-90 minute rental. Bike and Kayak Tours Coronado offers both kayak rentals and tours. They are located at the Ferry Landing (1201 1st Street #215).
Swimming Pool
Sometimes the best days are sitting by the pool lost in a good book. Coronado Inn and Coronado Island Inn have a great pool included with all bookings. With free Wi-Fi poolside, your next eBook is just a click away. 
Dining
Packing snacks, water bottles and even a picnic are great ways to cut down on food costs. And there is no better dining location than right on the beach enjoying watching the waves.
When you do decide to enjoy the great Coronado local cuisine, consider taking advantage of lunch specials. Many restaurants have discounted lunch options. Other ways to save are to take advantage of the many Coronado Happy Hour Specials.
Here are some local favorites who offer great Happy Hours
Brigantine Restaurant (1333 Orange Avenue)
Costa Azul (1031 Orange Ave)
Delux Dogs (943 Orange Avenue)
Lodging
Coronado Inn and Coronado Island Inn offer affordable lodging options. With high standards on quality and cleanliness, you can rest easy knowing you and your family will be well taken care of. Rates start as low as $89 a night. With suite options hosting a full kitchen, save even more by serving up home cooked meals.
Don't pay for expensive pet boarding while you are away either. The Coronado Inn and Island Inn are dog and cat friendly hotels in Coronado. We allow up to 2 pets per room (cats and dogs) for a small additional fee.
Share on Facebook