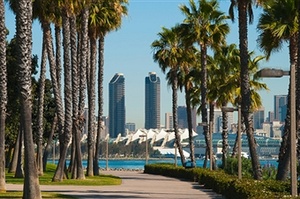 While Downtown San Diego may host the majority of business conferences, why not turn your business trip into a beach getaway by staying in Coronado. You get to avoid the hassles of the hustle and bustle in downtown, enjoying instead the luxuries of the Crown City.
Where to Stay:
The Coronado Inn is the most budget friendly accommodation on the island. Don't let the low cost fool you, the Inn still offers much needed amenities of a business man or woman on the road. With free Wi-Fi, a continental breakfast and 24-hour front desk service, you can be sure that you will still be able to attend to all your needed business tasks. And we won't tell anyone if you decide to catch up on e-mails poolside.
Transportation: 
With free parking at the Coronado Inn, avoid the expensive parking garages and 2-hour limits on metered parking downtown. Instead take the scenic route, arrive by boat! The stunning Coronado Ferry Landing sits only a 7-minute walk from the Inn. No matter if you take your trip in the early morning, watching the fog slowly slip away from the city as the sun breaks through, mid-day to take in crystal clear views of the water, or in the evening as the lights of the city dance across the water, you are in for breathtaking views of San Diego. 
Where to Eat:
With an easy grab and go continental breakfast at the Coronado Inn, you will never have to worry about waiting in lines or getting the check in time to make your morning meetings. Offering an abundance of fresh California fruit, delicious pastries and coffee, you can count on a filling meal to start your day.
Deciding on a meeting over morning coffee? Coronado hosts a great selection of coffee houses:  
Café 134
Café Madrid
Coronado Coffee Company
Most business conferences provide lunches, but if you find yourself without, hopefully because you extended your trip, here are several great spots to checkout:
Nicky Rottens
Rhinoceros Café & Grille
Delux Dogs
Don't forget to reward yourself after a long day of business meetings and breakout sessions with a delicious dinner:
Coronado Brewing Co
Lil' Piggy's Bar-B-Q
Costa Azul
Where to Play:
It can't be all business when you are in San Diego, even if it's under the premise of a business trip or conference. There is just too much sunshine for that. And one of the biggest perks of Coronado is the gorgeous mile stretch of beach. Between the beach and exploring the charming city, you may just find yourself extending your trip. 
Share on Facebook