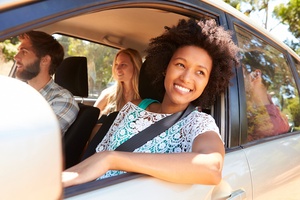 Walking off the plane at your destination brings a wave of relief and excitement. That lasts just about until the moment you realize that you still have to navigate to your accommodation to truly start your vacation. Seasoned travelers can attest to the tricky logistics often accompanying moving from the airport to, well, just about anywhere. To help smooth over your ride, and get you to paradise faster, here are the best options for getting from the San Diego Airport to Coronado.
The Basic Layout 
Coronado Island sits seven miles from the San Diego International Airport, located just across the bay from San Diego's Gaslamp district. To help travelers easily make their destination, transportation is streamlined from the airport and gives you several options. San Diego International Airport is small enough that you can easily navigate it. Additionally, they mark their transportation options exceptionally well. If you find yourself lost, they have an information kiosk near the baggage claim area.
Taxi, Uber, or Lyft 
By far the fastest route to the island is to hail a cab, call an Uber, or request a Lyft. In case you're unfamiliar with those last two, Uber and Lyft are two popular ridesharing applications with widespread use in Southern California, as well as across the United States. Here's a quick snapshot detailing the difference between the Rideshare Apps.  
Regardless of which route you go, you'll be loaded into your ride in minutes. Taxis have preferential treatment with an assigned loading area right outside of the baggage claim area. Uber and Lyft have designated areas just beyond the taxi and bus loading. Their location is squared away in the short-term parking. To use one of the ridesharing platforms, you will need to download the app and request a ride through the app.
Prices vary depending on demand and traffic. When we price checked the apps for rides from the airport to Coronado Inn, Uber Pool (the carpool version) ranged from $7-$15, with Uber X coming in between $11-15, and Uber XL (a larger vehicle) ranging between $18-$24. Lyft offers a "Line" option, where you can select a car from the queue. That priced out between $6-$13. The traditional Lyft came in between $12-$15. 
Depending on traffic, which is minimal in San Diego, especially when you compare to the city of angles up north, expect to be dropping your bags and heading to the ocean in twenty minutes or less.
Car Rental
One of the quicker routes comes in the form of a car rental. To speed up the process, and secure the best deal, we recommend reserving in advance. Each of the different car rental venues will have their own kiosk near the baggage claim area, allowing for a seamless process.
If you're questioning if you need a car for your Coronado vacation, check out our "do you need a car" guide to see if this option makes sense for you. Many travelers choose to rent a car for their vacation, but oftentimes you can actually get away without shelling out extra for a car rental. 
Just like the taxis and hired cars, your route will take approximately twenty minutes. As a benefit to travelers who do rent cars, at Coronado Inn we provide free parking.
Bus Transportation + Ferry Ride
Next we have public transportation. First, insert the classic bus. San Diego's MTS system does an excellent job of covering the majority of the city, including options to Coronado. The majority of buses arrive and depart from the airport every fifteen minutes.
To take the bus all the way to Coronado, you can catch the 923 bus and take it to the Broadway & Front Street stop. From there, you catch the 901 Bus at Broadway & 3rd Street. The 901 bus will take you over the Coronado Bridge, at which point you will exit at the 3rd Street & Orange street stop. After that, you're a quick 2-minute walk to us at Coronado Inn. This option takes approximately an hour and will cost $4.50 per rider. The bus system only takes exact change, so ensure you have $2.25 per person per bus. You can plan your bus route here.
The next option comes with even more beautiful views! From the airport, you can take the 923 bus to the N. Harbor Dr. & 1140 (B St. Cruise Ship Terminal). Effectively you're getting off at Broadway Pier. From here, you take the Coronado Ferry to Coronado Ferry Landing. From the landing, Coronado Inn is a glorious ten-minute walk directly down Orange Avenue. This option costs $2.25 per rider on the bus, and $4.75 per rider on the ferry. Even though it's a public form of transportation, we highly recommend the ferry ride as an actual activity to our travelers. The views are just that good.
The Best Budget Lodging Option in Coronado 
If you know that you are headed to Coronado, but have yet to determine where to call home for the duration of your vacation, consider us at Coronado Inn. We provide all the amenities of home at a family friendly price point.
Rooms go fast, so book your stay today!
Share on Facebook