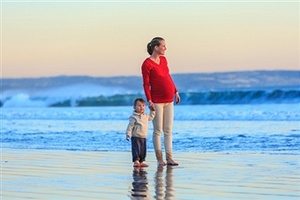 It is always a good time to take that much needed beach getaway with the family. While always rewarding, sometimes traveling with the whole family can bring some interesting challenges. Not only does Coronado offer the allure of beautiful weather year-round and golden beaches, the Crown City is also perfectly suited for family trips!
Coronado Inn: 
Picking accommodations can be tricky, especially for a family with younger kids. Finding a safe neighborhood at an affordable price becomes priority. With the Coronado Inn, you not only find yourself feeling safe at all hours at a price you can afford, but enjoying the added benefits of a pool and close proximity to all the Coronado favorites.
Getting Around the Island:
Coronado's easy walkability makes moving around the island a breeze! Whether you are checking out Orange Ave, making way to the beach or headed out on jet skis, leave the car in the free Coronado Inn parking lot. 
Want a little faster tempo?  Rent bikes and take Coronado by storm. As a flat city, you won't have to worry about biking up any hills.
Looking to explore Gaslamp? Possibly take in a Padres game. Then arrive in style, by boat! With a scenic, yet affordable, ferry from Coronado to Downtown, you can avoid all the hassles of parking. And your kids will love the boat ride.  
Where to Eat:
Notoriously dubbed picky eaters, some kids take being choosey abut food to a whole new level. If your kids fit this category, consider opting out of paying for meals that will only end up uneaten and instead opt to make family favorites from the comfort of the Coronado Inn Kitchen Suites. Cooking is convenient and easy with a grocery within walking distance.
No one wants to completely miss out on dinning out on vacation. Luckily Coronado has several Kid approved dining options:
Delux Dogs
Miguel's Cocina
Pizza Greek Grill
Grumpy Dan's Grill
Especially if you eat from the Coronado Inn Kitchen Suites, dessert is a must! And Mootime Creamery ensures everyone leaves with a smile, which isn't hard to do with the retro décor, hand rolled cones, creamy flavors and delectable toppings.
Where to Play:
Every kid loves the beach, which makes Coronado the perfect family destination.  Repeatedly voted the "best beach of the United States," you will not be disappointed. Throw in a few plastic buckets and shovels; you can easily spend most of your days at the beach.
When it's time to explore, make sure to walk and shop on Orange Ave. A quick stop to Mootime Creamry will make sure the kiddos are merry, allowing a little extra quite time while shopping.
Share on Facebook