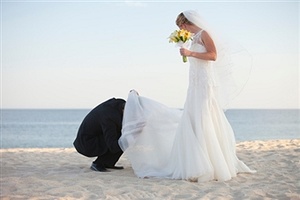 Your wedding, while hopefully everything you ever dreamed of, represents the most expensive party you will likely ever throw. For many brides, this dampens extravagant plans for the honeymoon. But the good news is there are plenty of ways for the Budget Bride to plan a memorable honeymoon in Coronado.
Activities 
Spend your honeymoon sailing off into the sunset from the most Romantic Beach in California. Ditch the expensive yacht and go by ferry. A fraction of the cost of a formal bay ride, you still get the scenic views of San Diego. Going at night, the same price as the day ride, treats passengers to the dancing lights along the bay.
Another inexpensive way to tackle the water is kayaking. A great team building exercise, renting a tandem kayak will fuel your adventurous spirit. Launching from the West side of the island will give you the same views of the San Diego skyline. 
And with any beach destination, spend your afternoons taking in the pristine views, getting lost in a good book by simply taking advantage of the beach, all at no extra cost!
Dining 
Bayside Market
155 Orange Ave -Perfect for stocking picnic baskets for dinner on the beach.
Clayton's Take Out
1107 10th St- Inexpensive, yet filling meals, Clayton's offers great Mexican favorites, well suited for honeymooners planning to go out for a stroll.
Leroy's Kitchen + Lounge
1015 Orange Ave- A great sit down dining atmosphere, this restaurant has a variety of unique menu options and top notch dishes.
*Must Hit* Moo Time Creamery
1025 Orange Ave- Stealing hearts of both young and old as Moo Time creates perfect ice cream creations by mixing up their delectable flavors.
Accommodations
Nestled into the heart of the island, the Coronado Inn provides budget travelers with all the amenities of home while enjoying easy access to all the charming characteristics that captivate travelers every day. Our rooms come with free wifi, continental breakfast and pool access.
Make a reservation today!
Share on Facebook