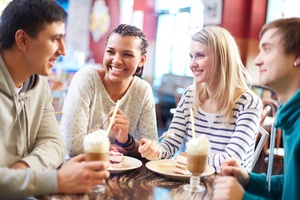 Merely a hop, skip, and a jump away from our strategic island location, Ferry's Landing provides ample shopping, sweeping bay views, and activities to keep you and your entire family entertained. More importantly, they spice up the palate with multiple dining options.
For all the foodie adventures, you can whet your appetite with ceviches, calzones, cupcakes, chocolate treats, and more.
Recommended eateries in Ferry's Landing.


Candelas on the Bay
Savoring the skyline while treating your senses to delectable Mexican cuisine, Candelas on the Bay pairs impeccable taste with superior service. Overlooking the bay, this restaurant creates a stunning array of dishes for each meal throughout the day.
If you're at a loss for what to enjoy, try out their breakfast buffet. With a line-up of ceviches, chile relleno, chilaquiles in combination with traditional breakfast food, your taste buds will be in absolute delight.


Village Pizzeria
If you've got a hankering for hoagies or are looking to add a little Italian spice to your routine, Village Pizzeria caters to all Italian fare loving visitors. Going beyond the traditional, albeit delicious, classical pizza, this eatery provides a full menu. Chose from an assortment of appetizers, salads, calzones, pastas, and, yes, pizzas. 
If you're lost in the array of options, the calzones here continue to receive high praise.


Savoring that Sweet Tooth
What good is having a sweet tooth if you can't indulge it every now and then? We say it's time to let that refined dessert palate. A Coronado vacation marks the perfect time to treat yourself to the delectable desserts that our seasoned culinary artisans craft. 
In order to embrace all of the carefully crafted desserts that Ferry's Landing offers, it might take more than just one sweet tooth. Here are two great places to start.


Coronado Cupcakery
Reminding visitors that they "claim no responsibility for cupcake addictions" is an important measure as these little sugar-infused delights can easily spur a desire to return again and again. In fact, throughout the entire experience visitors again and again will be warned how "dangerously delicious" these cupcakes are.
Please heed the warnings as these cupcakes live up to the hype! Perusing the flavor choices alone, encountering carrot cake, Valerie velvet, and chai spice Marianne to name a few, creates an uncontrollable mouthwatering affect.
The end result: visiting Coronado Cupcakery will create a rich desire to indulge in these desserts again and again.


Choco Amore
Take a luxury approach to pampering your sweet tooth with decadent chocolate-covered fruits, playful caramel apples, and more.  Choco Amore takes the art of candied desserts very seriously, working to excite the taste buds of all who enter.
One reviewer described the experience as, "walking into heaven."
Bottom line: you can't afford to miss a heavenly experience, especially when it comes dipped in chocolate.
Planning Your Visit
Ultimately, you can't go wrong with any of the restaurants in Ferry's Landing. All of them bring a distinct flavor to the neighborhood, allowing visitors to address any craving they may have.
The real shame is not allocating enough time on the island to try all of them out.
Extend your visit far beyond a single meal by staying at the Coronado Inn. Our great location places you only a short distance to all the flavors of Ferry's Landing with prices that gives your budget enough room to enjoy the local fare. 
Share on Facebook