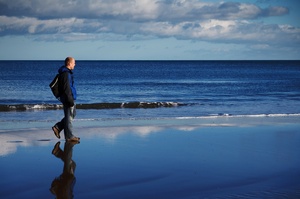 Father's Day is a special time to celebrate all the things that make dad amazing, and there's no better place to celebrate than in paradise. With beaches, lounge chairs, BBQs and endless family activities, there's no better place to enjoy Father's Day weekend than in Coronado.
So if you don't have plans for Sunday, June 21st, consider a getaway to beautiful Coronado. And since the best father's day activities are centered on quality time with the kids, here are several family friendly activities:
Beach Activities
You can't go to Coronado and not enjoy the beach. The sunsets alone are worth the trip, but to keep the kiddos entertained, consider packing supplies for these endeavors:
Sandcastle Building Session
Volleyball
Bury a Lucky Family Member
Mini Beach Golf
Frisbee
Brunch 
Few dads can turn down a good meal. Thankfully, Coronado restaurants tend to go all out in honor of dad. While the official details haven't been released yet, here are several restaurants that host special brunches every year:
Midway Tour
History can only make things more interesting. As the longest-serving Navy aircraft carrier of the 20th century, the USS Midway Museum has a lot of history to share—50 years in fact. 
Take the family on an exploration through time. See real air fighters and experience piloting with simulators. Visitors can even talk with real life veterans about their experiences. 
BBQ
Here's a perfect father's day pastime idea: forgo restaurants and cook outside! Fresh veggies and meat right off the grill are a great alternative to restaurant fare. It's also a great time for dad to show off his grill skills.
At Coronado Inn, we have several grills furnished for guests. It's our way of allowing guests to enjoy this Southern California pastime and keep food costs low.
Water Sports
There are so many memories waiting to be had out on the open sea! Just imagine an afternoon kayaking, paddle boarding or jet skiing. These are the types of memories that families talk about for years. 
Conclusion
Whether it's for Father's Day or just a family getaway, Coronado is a magical place for families to create priceless memories. For family-friendly lodging on a budget check out Coronado Inn.
As a family owned business, making family memories happen is one of our top priorities.
Share on Facebook