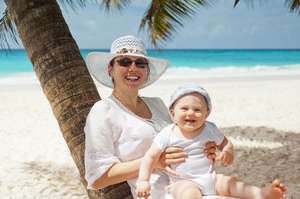 The decision to celebrate Mom is one of the most sparkling resolutions society has made. For most families, Mom is the unsung hero who keeps everything together. While moms everywhere deserve an entire month to sing their praise, a weekend getaway to paradise might just be the trick.
As it happens, Coronado is such a paradise. And Mother's Day is an island specialty.
Annual Coronado Historic Home Tour
Every year, the Coronado Historical Association hosts an enchanting tour of several of the most spectacular homes in Coronado. While the formal details have yet to be released, this annual event has been on Mother's Day for several years. 
This tour capitalizes on the magnificent and eclectic styles that call Coronado home. The 2014 tour saw Spanish bungalows, Mediterranean courtyards and English Tudor style residences. Even without the finalized details, patrons can be sure that this tour will both captivate and delight Mom.
Spa Day
Some moms consider a relaxing day at the beach the equivalent of a quality spa day. With Coronado's mile of pristine golden beach, you can't go wrong with an entire weekend nestled next to the calming sound of the ocean. 
But, for those families who want to go above and beyond, Coronado has a plethora of quality spas that will give mom a memorable retreat. From facials to microdermabrasion to full body massages, consider this the gift of rejuvenation.
Here are 3 great choices for a mini Coronado spa retreat:
Mani & Pedi
Having a manicure or a pedicure is a unique treat! Not only does this set Mom up perfectly for an entire vacation in flip-flops, it is a great way to pamper her.
Here are 3 great spots for manis or pedis in Coronado:
Day on the Water
Depending on Mom's preferences, there are countless ways to get out on the water! From the adventurous to the more low-key, Coronado caters to all.
Charming Gondola Ride
This is an extremely luxurious experience, reminiscent of the iconic Venetian activity. These enchanting tours glide through the Coronado canals, giving passengers great views of the city.
Adventurous Stand Up Paddle Board 
The bay is waiting to be explored, and a stand-up paddleboard (SUP) is waiting to transport you! Especially for those with good balance, SUP is a great way for beginners to hit the bay. For those up for a little more of a challenge, Coronado Beach is a great SUP destination.
Captivating Kayak Tour
Want a unique experience? Check out an urban San Diego Kayak tour. This tour enjoys spectacular views of the San Diego skyline and the Coronado Bridge. This leisurely tour will launch from the beautiful Coronado Ferry's Landing. 
Conclusion
Coronado is a magical place to spend Mother's Day. And if you are looking for quality lodging at affordable rates, look no further than at the Coronado Inn. We are centrally located to all the top Coronado activities, which makes navigating the island a breeze.
Share on Facebook