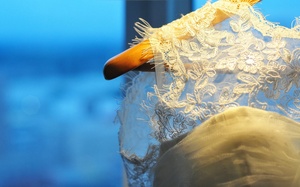 With all the important details that go into preparing for your big day, there are a few things that many couples don't think about when planning a destination wedding. Here are three key considerations:
Transportation
Most of the time, you will arrive to your wedding destination by plane. While this can appear slightly glamorous, it poses a logistical challenge: transportation during your stay. This has many implications for you, the bridal party and the guests.
Ideally, try to choose a venue near the hotel with basic amenities within walking distance. This will limit the need for guests to rent a car, which can be costly. For Coronado, there are apps like Uber, Lyft and Sidecar that make getting a ride from the airport to the hotel easy and affordable. Once on the island, everything is within walking distance.
The bridal family may want to consider renting a car for quick errands, bringing supplies to the reception or to have as the getaway vehicle (that is, unless you decide on a little more extravagant exit).
Wedding or Day of Planner
Unless your particular destination is like a second home, you are going to want some professional assistance. Having a local wedding planner will prove invaluable as you navigate selecting vendors and handle other logistics. Many times they have good standing relationships with vendors and can help you negotiate a good price. 
Fridge & Kitchen Access
If you are like most brides, you're watching what you eat before the big day. While doable, it's incredibly hard to be mindful about your food choices while continually eating at restaurants and grabbing fast food. It's also very easy to give in to stress eating. The same goes for many members of your family and bridal party. Choosing lodging with kitchen access provides more affordable options as well as lets you continue to eat healthy. 
Conclusion
Coronado is a magical destination for your special day. If you are looking for a centrally located venue with kitchen access, then consider the Coronado Inn. We provide affordable lodging with all the amenities of home, which will allow you to focus on what matters: getting married.
Share on Facebook