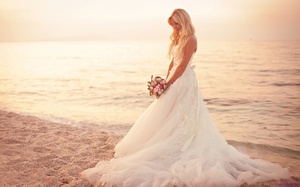 If a beach wedding is your dream, then Coronado is your destination! We have breathtaking views and pristine beaches perfect for your nuptials. And with yearlong sunshine and average temperature of 70 degrees, all your guests will love the venue.
Here's the skinny on beach options for your Coronado ceremony:
The Continuous Stretch of Beach
Coronado has over a mile of continuous golden beach stretching along the Pacific. It is broken into three different areas. Each beach has stunning views of not only the ocean, but also of Point Loma. Onlookers typically enjoy views of sailboats and aircraft carriers.
North Beach
Starting at the top of the golden strand, North Beach is between Dog Beach and the main lifeguard tower.
Central Beach
Running from the lifeguard tower to the Hotel Del is Central Beach is Central Beach.
South Beach
This beach starts at the hotel and runs until meeting the Avenida Del Sol.
Parks with Beach
Tidelands Park
Enjoying sweeping views of the Coronado Bridge, Tidelands park hosts a small beach area along the bay adjacent a delightful park. The park is just North of the Coronado Golf Course.
Glorietta Bay Park
Located at 1975 Strand Way, this gem has a small strip of beach bordering the fence of the Naval Amphibious Base Coronado and a beautiful park.
The Cayes
Silver Strand State Beach
The Silver Strand is the stretch of land connecting Coronado to Imperial Beach. About 4 miles South of Coronado, you will find the Silver Strand State Beach. Here you can find a peaceful cove along the beach.
Conclusion 
If you are envisioning a beach ceremony, then reserve and permit your Coronado beach in advance. While Coronado's beaches are locations perfect for your ceremony, there are several restrictions on receptions. Learn more about permitting and reserving beaches. Check out reception venues.
If you are looking for the perfect affordable lodging for the bridal party or guests, check out our great rooming options.
Share on Facebook