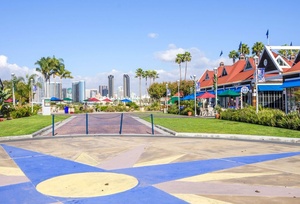 Summer freedom is right around the corner! You've already started to see signs. The parks are a little greener. There are a few more blossoms when you take a walk outside. The days are growing longer. Short sleeved shirts and shorts seem more appealing than yesterday.
Well that last one applies a little more to the mountain regions to the north. Here in Coronado, it's shorts weather all year long!
No matter where you live in the United States, signs of the impending summer season are everywhere. Which means it's time to start planning your festivities to celebrate.
Summer is a prime Coronado season. To start, we have an award-winning stretch of golden beach to enjoy. Secondly, the entire island comes together to put on incredible events, festivals, and more to bring locals and visitors together in a fun and friendly fashion.
Here are some of the island summer favorites:
Concert Series
The summer season brings a slew of jubilation, dancing, and live music. If you enjoy good ambiance, friendly people, and listening to music as the sun sets in the backdrop, then these concerts are for you.
Coronado Concert Series
Put a little swing in your step with our family-friendly concert series at Spreckels Park. Every Sunday night from May 24th to September 6th the entire community comes out to jive to the tunes of a new band. The diverse lineup includes jazz, cover artists, country, blues, oldies, and more.
Spreckels Park is centrally located in Coronado. No matter where you are, it's an easy walk or bike ride to catch the concert. Pack a picnic and grab a blanket to make the evening a complete experience.  
Summer Pops Series
While technically not on the island, the Ashford University Summer Pops with the San Diego Symphony series is so engaging and easy to get to that it's an islander favorite. Several times throughout the summer the roar of the orchestra fills the entire embarcadero. Guests are treated to a variety of genres of music. From classical to country to alternative, the Symphony finds a way to make a unique blend of almost any style of music. This year's headliners include Diana Ross, Amy Grant, Seth MacFarlane, and more.
Sometimes they even screen popular movies with the live orchestra stepping in as the soundtrack.
The result is an entire evening of spectacular entertainment. Check out concert dates and times here.
The Embarcadero is extremely easy to get to from Coronado. Catch a ride on the ferry, and the Convention Center stop will drop you off right near the concert site.
Marathons, Runs, and More
We're an active community here on the island. Some have even gone as far as to say we are health fanatics. What can we say? We love being outside. Adding a little exercise to our outings makes perfect sense.
If you categorize yourself as a heath fanatic or are looking to kick start your efforts in paradise, then we have several great options for you! Over the bridge, on the sand or by land, no matter your style we have a race for you.
Bay Bridge Walk & Run
Sunday, May 15th
Pedestrians on the Coronado Bridge are a strict no-no, except for one day a year. That's the annual Bay Bridge Walk & Run. It's a 4-mile walk or run with one of the most spectacular views in the entire city. The festivities kick off at 8am at Tidelands Park on the island. Joggers and runners then make their way over the bridge to Downtown San Diego.
Don't worry. After doing all that work to cross the bridge, the organizers provide free transportation back to Coronado. 
This race raises money for the Navy's Morale Welfare and Recreation (MWR) programs. These programs help active duty military members and their families throughout their term of services.
Low Tide, Ride and Stride
Sunday, June 26
Just south of our incredible Coronado Beach there is beach maintained by the US Navy. It's off limits to civilians 99% of the time.
Except for once a year when the US Navy opens up their 8-mile stretch of beach to runners and bikers. 
For the fitness enthusiasts who appreciate pristine beaches, this is the race for you! Put on by the Coronado Rotary, proceeds from the event support several causes in the community including Wounded Warriors, youth programs and Outdoor Outreach.
4th of July Swim & Run
It's quite the affair here on the 4th of July! We kick off the day at 6am with the Crown City Classic 5k & 12k Run registration. The festivities start at Tidelands Park. Runners of both routes will take in the views of Glorietta Bay Park.
If land routes aren't your favorite, consider the Rough Water Swim. This race is also on the 4th of July. Open to all ages, swimmers take off from the beach and head out and back either 250 yards or 400 yards into the Pacific. 
Local Favorites
There's no denying that Coronado is a charming place. Part of what makes it so charming is our local annual events. From fireworks to hot rods, we have something to celebrate everyone's interests.
MotorCars on Main Street
Sunday, April 24
If pre-73 restored cars get your blood pumping, then the MotorCars on Main Street show is your kind of event. Showcasing over 400 classically restored rides, it takes over a large section of Orange Avenue for an entire afternoon. Join other hot rod enthusiasts as you marvel at the detail put into every vehicle. 
Should you want to present your own vehicle, make sure to register it early. Spots sell out.
4th of July Parade and Fireworks
Monday, July 4th
Whether or not kicking off Independence Day with a race is for you, Coronado has a variety of activities. Shortly after the races conclude, we host an incredible parade. Orange Avenue is filled with festive floats, marching bands, and students showcasing their clubs. Starting at 8am, the Spreckels Park becomes a canvas for local artisans with the Art Walk. Enjoy the sunset with a music filled evening courtesy of a special Sunday Coronado Concert series rendition. 
The real show is in the evening with the extravagant Big Bay Fireworks show. The city shoots off an incredible array of fireworks from three different barges in the bay. 
All the details on the 4th of July happenings can be found here.
Mother's Day Historic Home Tour
Sunday, May 8th
Make Mother's Day magical with the only show dedicated to highlighting the architecture, design, and care that makes our homes on the island so uniquely coveted. Each year the tour features several homes that exemplify the selected theme. This year's theme is Homes by the Sea.
See which homes are on tour here. Also make sure to check out all of our Mother's Day suggested activities.
Following the Festivities
After a long day adventuring around the island, nothing feels as good as a comfortable room to kick up your feet and relish the fun you've had. At Coronado Inn, we are the premier budget accommodation of choice on the island. Regardless of the time of year you visit, you are guaranteed to fall in love with the charm of our island. Centrally located to all of the Coronado favorites, staying with us will be the easiest decision of your entire vacation.
Determining between hitting the beach and exploring the art walk will pose a much bigger decision. 
Share on Facebook