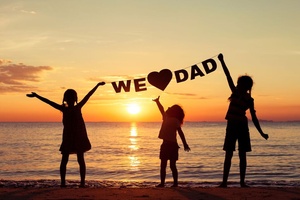 Good old dad—he's always been there for you. Thick or thin, he's had your back. While dads come in all styles (charismatic, funny, loud, quiet, and more) one thing remains the same. They tend to be the silent heroes in our life.
Too often we forget to celebrate everything that uniquely makes him, well, him.
This year is your chance to sing to the mountaintops how great your dad is. What better way to say, "Thank you for being such a great dad," than a weekend getaway in Coronado? Well, technically a week would be better, but we think you get the idea.
If you're looking to add some spunk to your Father's Day routine, plan your Coronado Father's Day retreat. From golden beaches to scrumptious fish tacos to live sports, we have everything in place to make your jubilations the most memorable yet.
Catching a Game 
It's hard to have a more classic Father's Day phrase than, "Play ball!" While "buy me some peanuts and cracker jacks," and "root, root, root for the home team" make close seconds, the true iconic moment starts once the umpire nestles into his spot and bellows, "Play ball!" across the entire stadium.
While the television can record the happenings, nothing captures the true essence of America's favorite pastime quite like a live baseball game.
You're in luck because the San Diego Padres play at home for Father's Day this year. Petco Park is only a short ferry ride away from our beloved island. Catching the ferry is actually one of our memorable activities, giving you sweeping views of the San Diego skyline and the Coronado Bridge. Depending on how you time your trip across the bay, hitting the water around sunset will give you unparalleled views of our charming hometown.
Once you've enjoyed all the cracker jacks, hot dogs, and garlic fries you can muster, hopefully paired with a valiant Padres win over the Nationals, getting home is a cinch.
Soaking in the Beach
Not all dads care to spend their favorite day at the ballpark. Some prefer catching Zs at the beach to the 7th inning stretch. We have them covered too. 
Let us introduce you to our golden Coronado beach. 
This top-of-the-line beach is fully equipped with soft sand, rolling waves, perfect temperatures, and friendly people. We've alluded to how serious we take our beach lounging activities here at the island, even comparing them to an Olympic sport. Needless to say, going to the beach is important business.
First, you need to pack properly. This includes a lounging station, scrumptious snacks, proper refreshments, and adequate entertainment. Entertainment varies from a book to a sand castle to the back of your eyelids.
Once at the beach, it's all about relaxation. From finding the perfect position to listening to the mellow beckoning of the waves, hanging at the beach is by far one of the island's favorite activities.
BBQs
Even the smell of the BBQ elicits memories of Father's Days past.
Burgers, bratwursts, grilled veggies, corn, and more are all made even more delicious after a short stint on the grill. Add a few spices and a seasoned chef and you'll be enjoying yet another of America's favorite Father's day activities.
At Coronado Inn, we have complementary BBQ stations to bring your celebrations full circle. Whether you start early for a grilled brunch or celebrate later in the day, we make it easy for you to fire up the grill even when on the road.
Showing off Your Dance Moves
After a fun day playing, it's time to boogie! Other days during the year you can comment that dad's moves might be a little out of touch, but today he is center stage. From jazz hands to disco to that weird hop he's added to his routine, he gets to let all the moves out at the Coronado Summer Concert series.
Every Sunday during the summer the entire island comes together to listen to good music, enjoy picnics, and add their own moves to the dance floor. The lineup will be released soon, so check back to the concert site to see who is taking the stage on dad's big day.
Home Away From Home 
To give dad all the luxuries of home while vacationing in paradise, choose Coronado Inn. We are the premier budget accommodation on the island. Located in the center of the island, you can easily walk to the beach, Orange Ave., Ferry's landing, and more.
Book your Father's Day trip today!
Share on Facebook