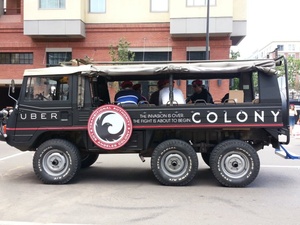 Check out the 2017 guide to Comic Con without badges here! 
Every year hundreds of thousands descend upon the Comic-Con website in pursuit of the coveted convention badges. Alas, securing these badges is as much of a guarantee as a roll of the dice. 
If you patiently waited online only to receive access denied, don't despair.
While the meat of the event happens behind closed doors, the Comic-Con experience extends far beyond the Convention Center. Comic-Con takes over all of Downtown San Diego. From spin-off events to themed car rides to soaking in the ambience, there are countless ways to enjoy the largest San Diego novelty event without a badge. 
Let's be honest, you're mainly interested in the experience anyways! For all of the experience seekers out there, here's our guide to navigating San Diego Comic-Con without badges. 
While the official schedules aren't out for 2016, we'll also give a short recap of 2015 so you know what to expect this year. 


Comic-Con Party Scene 
An entire underground party scene has developed. Countless TV shows emerging as headliners in Hall H have given rise to a vibrant and varied party scene downtown. Shows like Walking Dead, Game of Thrones and Big Bang Theory are extending beyond five seasons. That gives the entertainment industry several years to perfect the fan party experience. Overall, it's a win for fans.
And with growing popularity, those shows don't show signs of slowing down. Unless the writers kill off the entire cast…
2015 Recap:  
With Marvel and Paramount sitting out the event, 2015 gave the chance for several party newcomers to step into the spotlight. And they stepped up! It was four packed days of incredible events.
From Game of Thrones to Vampire Dairies to The Muppets, no matter your comic tastes, Hollywood had you covered in the after party arena. Check out last year's event schedule.


The Walking Dead Escape
With four consecutive years under their belt, we are pretty confident that the popular Walking Dead Escape will return to Petco Park again this year. A mere two blocks from the convention center, this event puts you in the heart of the Comic-Con ambience. Should you choose to skip the course, you can walk around the park and encounter walkers roaming around inside. Don't walk to close to the fences though! The zombies enjoy reaching out and grabbing passers-by. 
2015 Recap:  
Event organizers upped the ante with two different options for a zombie experience. Fans could choose to either to run the course once as a survivor or do the course twice, once as a survivor and once as a "walker."  The walker experience included a full zombie makeover.


Summer Pops Comic-Con Style
The San Diego Symphony plans to bring back their popular Comic-Con Weekend Summer Pops series this year. While there isn't a confirmed schedule out yet, we've heard rumors that they are working to screen the new Star Trek movie. 
2015 Recap:  
The San Diego Symphony was the talk of the galaxy as they hosted a surprise Star Wars concert for those who were able to make it into the Force Awakens panel. While that event was only for dedicated badge holders (many slept there for days to get in!), the Symphony also hosted two events open to the public. They screened Pokémon and Star Trek with the orchestra playing the soundtrack. 
Ride In Style
Why settle for ordinary transportation when you can opt to be transported to a different universe? Come Comic-Con time, traditional transportation channels evolve into vehicles from other worlds.
2015 Recap:
Following a creative 2014 debut, Uber once again showcased innovation with Colony-themed military vehicles transporting rides around downtown. Game of Thrones and Once Upon a Time dominated the Pedicab space.


Off Shoot Event Predictions
While we doubt you'll see Star Wars XIII throwing any surprise events this year, Marvel and DC have an ambitious lineup of movies slated for a 2016 release. We would say the odds are pretty good for some spin-off events for either Doctor Strange or Sinister Six.


Discovering the Stars
Reality check. Hollywood's various stars don't want to stay cooped up in the Convention Center all week. When you have a VIP escort and front row access, why not explore the town?
Countless fans reported seeing various TV favorites meandering around the city over past years. In Coronado, we frequently saw some of our favorite characters enjoying the beach near the Coronado Hotel Del. Many chose to stay at the historic hotel during the convention.
Your Comic-Con Lodging of Choice
At Coronado Inn, we would like to invite you and your fellow Trekkies, Whovians, Potterheads, and other fandoms to stay with us this Comic-Con.
Coronado is an incredible lodging choice for the convention. We are a short ferry ride away from the Convention Center. While Uber, Lyft, and the trolley will be beyond capacity, the ferry will be easy to navigate. And you never know what celebrity you will run into while on the island.
We've officially opened our rooms for Comic-Con weekend reservations. Book yours today!
Share on Facebook