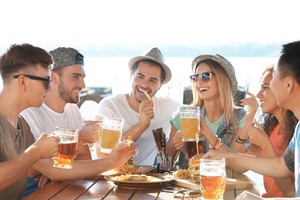 We get it. Comic Con badges are nearly impossible to snag these days. That doesn't mean you need to miss out on the entire experience. Should the badges elude you, commit to joining the underbelly comic event. This takes place outside the convention walls, down alleys, tucked away in warehouses, and in basement bars.
Luckily, they are much easier to find than it sounds.
Without further ado, here is our Guide to Comic Con 2017 Without Badges.
Bring on the Capes and Tights
The superhero culture will be strong with this year's event. With Marvel adding three movies to the 2017 line up, DC contributing two, and the glorified return of the Star Wars Saga, event goers will have a plethora of characters in tights and capes to emulate. Fortunately, stars like Guardian of the Galaxy's Gamora spice up the usual with a powerful combination of leather and hardware.
All this to say that if years' past serve as any indication, major films releasing this year will dominate the Comic Con Runway. 
No badge necessary to enjoy the specialty costumes. The costume clad make sure to hit their rounds in downtown Gaslamp, heading out for lunch or soaking in the event ambiance that spills out into the streets. You'll see them striking poses and encouraging photographs all along 5th Avenue. Add that to the studio-endorsed promotions for upcoming movies and TV shows, and there is as much action in the streets as there is in the event. 
In short, it's the best people-watching you'll ever access.
Symphony Takes on Comic Con
It may sound like an odd combination, the San Diego Symphony Orchestra and the world's top superhero fan club, but every type of comic fan will savor the Orchestra's conference lineup. While the 2017 events are yet to be announced, know that the music comic combination will make even the most die hard Marvel fan appreciate a night at Symphony Hall. 
Past events have included a tribute to Tim Burton, a surprise Star Wars concert, playing the soundtrack to the Star Trek movie and more.
Hop Con
Who says superheroes can't enjoy a cold one after saving the world? Definitely not this crowd. Particularly in the city known equally for their diverse brew scene as the converging of comic fans, it only makes sense for San Diego to simultaneously host a beer-geekery event.
Serving up their fifth round, Stone Brewing is leading the charge on a geek-inspired beer convention. Tickets go on sale in April with the event raising glasses to all types of comic types on July 19, 2017.
Crawl with the Best 
"Winter is coming…but so is another round."
Take your appreciation of the fine art of drinking with you as you join fellow Game of Thrones fans at a dedicated SDCC Pub Crawl. To up the stakes, you and your fellow watchmen can compete in an epic scavenger hunt. See details here.
But remember, "When you play the game of thrones, you win or you die. There is no middle ground."
More to Come
Comic Con loves to build suspense, and releasing the ambitious off-site events schedule is no different. As the official convention lineup rolls out, we'll have more information on the other intriguing off-site events expected to debut. Typically events outside the convention doors highlight some of the major films or TV shows welcomed to the main convention halls.
Book Your Rooms Early 
While we can all (attempt to) wait patiently for the official schedule to go live, there are some things that just won't last. For instance, lodging in San Diego and neighboring Coronado go quickly. Wait too long, and you'll be without a place to stay.
Check out our rooms at Coronado Inn today!
Know that by staying on the island, you'll be able to skip the traffic jams surrounding downtown and instead opt for the scenic ferry ride directly to the Convention Center. More importantly, you may just run into a few of the stars who choose to stay on the island.
Share on Facebook