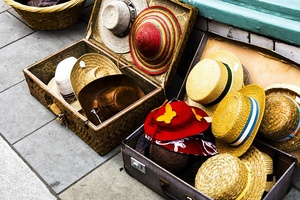 While the planning and preparation for a trip takes place months in advance, somehow packing is always pushed off to the last moment. Are you coming down to the wire with an empty suitcase staring at you, no taunting you, in the hallway while you hem and haw about what to bring?
Don't fret! We have all the essentials that you need to enjoy your Coronado excursion to the max.
Beach Essentials
You have officially made it to the premier beach in the United States. Really! Coronado Beach frequently tops a variety of "best" beach lists in the United States. From "Most Romantic" to "Best US Beach" to even getting top marks as the "Best Dog Beach, the accolades keep piling up.
We're pretty sure that they bring other beaches into the mix just to shake things up a bit. 
Needless to say, our charming stretch of golden sand will be on the top of your itinerary. To make the most of your beach time, you will want to pack: 
Your favorite swimsuit and a big beach towel,
A captivating book to dig into,
Castle making supplies, *
Desired beach sport equipment (volleyball, Frisbee, smash ball, football or boogie board), *
Sunscreen and aloe vera,
Sunglasses,
Goggles,
Umbrella,
Beach cover-up for the ladies,
Soft folding cooler (for handy beachside snacks).
 *Many of these you can pick up on the island if they aren't handy or are cumbersome to pack.
Pro tip: if you are traveling with little ones or not a fan of sand sticking to your skin, bring baby powder or cornstarch. With a few taps of the bottle, sand magically falls to the wayside. You can thank us later when your kids are walking around town sand free.
Out on the Town 
We pride ourselves on our relaxed atmosphere on the island. Coronado epitomizes the classic Southern California beach town. From the beach cruisers rolling through town to almost everyone enjoying flip flops to shorts being a year-round fixture, we enjoy a causal ambiance.
While many locals sport more stylish casual attire, you will be comfortable in your regular summer attire.
Comfortable shorts,
Light weight short sleeve tops,
Light jacket or cardigan for the evenings,
Sundresses,
Shorts,
Sandals and water shoes,
Running wear* 
*The San Diego region is home to some of the most dedicated fitness enthusiasts! If you are an avid runner or looking to take advantage of exercise beach side, then this is your time! Our Coronado boardwalk is perfect for runners of all experience.
Electronics
Try as we might, we can never fully unplug for a trip. While we encourage you to leave work at home, many electronics can actually enhance your experience. For all the dedicated readers, your favorite digital reader brings your latest novel without the added weight. Likely you're never without your phone, so we won't remind you to pack it. There are several apps that make your trip a little easier. You can find them here. 
The last must-have is your camera. The sights, sunsets, and iconic buildings entice world-renowned photographers to our shores every year. This is the place to practice with your favorite SRL or even perfect your Instagram shot on your phone. Either way, make sure you have your favorite camera accessories handy. 
In fact, the scenery here is so divine that we recommend you and your family capture your famous Christmas card photo here.
For easy reference, here are those items in list form:
Nook, Kindle, or other reading tablet plus related chargers,
Cell phones and chargers,
Cameras, memory cards, and chargers,
For our foreign guests, an adapter.
Family Essentials
Every mom and dad know that the kiddos require a few extra items to successfully make it through a family vacation. While many of those will be specific to each family, here is a starter list to get you going: 
iPads, video games, or other entertainment items,
Card games,
Colored pencils and coloring books,
Plastic bags, napkins, and plastic ware.
Most Importantly
Choosing a lodging that feels like home can enhance every aspect of your trip! Your lodging becomes your new retreat away from the sun, a chance to recover or where you recharge for the adventures on the horizon.
At Coronado Inn, we are the most family-friendly budget lodging on the island. With free Wi-Fi, a pool, continental breakfast, and easy access to everything on the island, we give you all the necessities to focus on enjoying your time in Coronado. 
If you haven't booked your magical Coronado getaway yet, lock in your dates today! Time in paradise is exactly the type of trip you have been waiting for.
Share on Facebook