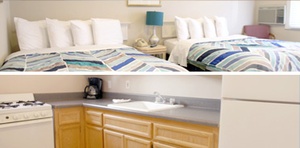 A thousand little details go into a wedding, everything from party favors, name plates, napkin styles to signage. And no one is more in the throws of wedding mode more than the bride's family.
For destination weddings, having fridge access in the days preceding the wedding is often an overlooked detail. Even with the best planners, all bets are off when it comes to weddings; you never know when you might need to refrigerate flowers, store ice or chill the wine.
In truth, most catering companies, florists and party planners handle any items that need refrigeration. But the DIY brides take over many of the tasks that add to the bill, such as flower pick-up, whipping up fresh mints, making boutonnieres, supplying wine for the rehearsal dinner or appetizers. And that's just a small list. It will include anything she can do to help trim costs. Depending on the extent items she tackles, a fridge might be the difference between a Pinterest success and an expensive last minute call to the florist. 
In addition to DIY brides, the bridal family might need a kitchen just to save on eating out every meal, especially since they tend to arrive a few days before the celebration. And the bigger the family, the bigger the savings with home cooked meals.
There is also something to be said for having a gathering space, and even a sofa. The Coronado Inn Large Kitchen Suites offers not only a full kitchen, but  a living room, which serves as a perfect place to decompress and regroup in between nail appointments, hair trials, rehearsal dinners and picking up relatives at the airport.
When choosing the bridal family accommodations for a destination wedding, make sure to you have the amenities of home close at hand. No matter the planning and preparation, it tends to be a chaotic time. And having the space to relax combined with the conveniences of home will go a long way in making wedding preparations run smoothly. 
Share on Facebook