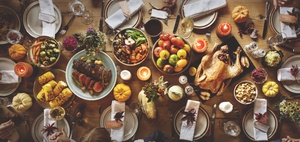 Our small town embraces the holiday spirit, starting with the infamous Thanksgiving Day feast and filling the entire day with festivities designed to entertain, delight, and create memories. 
If you're thinking of joining us in Coronado for Thanksgiving this year, here are several events to have on your radar.


Coronado 5k Turkey Trot
Thursday November 23rd 2017 at 8:00am
For the early bird eager to burn a few calories before the big feast, join the flock at the Coronado 5k Turkey Trot. The entire affair benefits the Coronado Unit of the Rady Children's Hospital as well as activating the entire community. 
Walkers, runners, and strollers of all styles welcome. The entry fee is $40 for adults and $15 for children. Attendees must register in advance. Registration closes November 20th. More information here.
Ice Skate by the Sea
Thursday, November 23rd – Monday, January 1st
While you may be surprised to see ice-skating, a favorite winter activity, listed in the land of endless summer, prepare to be amazed. Behold, the most iconic ice-skating rink ever, the Hotel Del Coronado rink nestled right along the golden San Diego shore, looking out into the stunning Pacific Ocean. 
This specially designed outdoor rink opens for the season on Thanksgiving Day, staying open through New Years. They run various operating hours throughout the season, so be sure to check into hours before planning your visit. Check the schedule here.
Small Business Saturday Shopping Along Orange Avenue
Saturday, November 25th
Skip the crowds flocking for cheap goods on Friday. Instead indulge in Small Business Saturday with our excellent boutiques along Orange Avenue. Here you will revel in only the highest quality wares and clothing while being greeted with the small-town charm native to Coronado. Continue the fun to Ferry Landing for a stunning array of boutiques, galleries, and more.  
Feast on Turkey (Without cooking a thing!)
Thursday, November 23rd
If you're in town visiting in order to escape the fiasco that goes down in the kitchen each holiday (as well as to enjoy our endless stream of sunshine), fear not! There are several local restaurants that love tackling the iconic meal for their patrons. From enjoying a perfectly cooked turkey to indulging in fluffy mashed potatoes, enjoy family, conversation, and holiday spirit while our incredible local restaurants assemble a memorable meal for you.  
While restaurants don't have their menus posted yet, here is a list of places that have been open in the past and the feasts they dished up.
The Perfect Family Friendly Lodging for Your Coronado Thanksgiving
Nestled into the heart of the island, conveniently located near all the Coronado favorites, Coronado Inn gives you the perfect blend of small-town feel and luxuries of home for you to enjoy your vacation to the fullest.
If you already have your vacation booked and are looking for other ways to spend your time on the island, check out our blog where we fill articles upon articles with ways to tailor your Coronado experience to fit your personal flair.
Share on Facebook