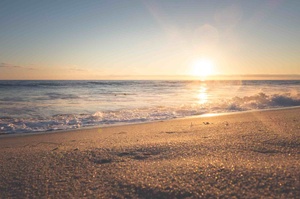 You may not know it yet, but your honeymoon is going to be the favorite part of your wedding experience. While the Champaign toasts, cake cutting, and dancing all night are lovely, the entire wedding experience can be a little overwhelming and definitely stressful.
Which is why we created the honeymoon.
This is your chance to actually spend time with your new husband or wife. The stress of your big day melts away. The excitement of your new life sets in. Overall, it's a beautiful thing.
You should celebrate it in a beautiful place!
Here are three reasons why we at the Coronado Inn believe that Coronado is exactly what you are looking forward to after your nuptials.
Historic and Romantic Ambience
From the iconic Hotel del Coronado to the historical homes, Coronado's rich history creates a charming and romantic atmosphere. The small-town pace causes you to slow down and appreciate the details.
For really digging in and appreciating the finer details, we recommend touring the Hotel del Coronado and Coronado Historical Walking Tour. They will showcase the beauty of our history as well as highlighting the best architecture on the island.
Activities
Just because the island has a rich history doesn't it means that there isn't anything to spend your time on. In reality, we have countless activities for young love birds! 
To continue the romantic ambience, choose a Gondola ride. You'll feel transported to Italy as you travel through the canals in the Cays. 
For the adrenaline junkie, check out our water sports. Between kayaking, surfing, and jet skiing, we're confident you'll enjoy that instantaneous rush once you hit the water.
Looking for something in the middle? Then we invite you to tour the island by bike. Taking a tour of the island with a breeze running through your hair is hard to beat.  
To see all the activities, check out our guide to romantic activities.
Delicious Dining
You can't have a good getaway without fine dining. Especially when it is your honeymoon. Lucky for you, Coronado has decadent dining options. 
While as a budget bride you might not be able to splurge every night, you should enjoy fine dining at least one evening. We recommend the Blue Water Boathouse or Primavera Ristorante. 
Don't worry. Just because you won't be able to spree every night, doesn't mean you have to sacrifice flavor. We have great budget-friendly restaurants with robust flavor. Start your dining with our scrumptious fish tacos.  
Your Honeymoon Lodging 
For your honeymoon, we invite you to stay with us at Coronado Inn. Centrally located, we offer easy access to all your island activities. We know budget is important. That's why we offer a complimentary continental breakfast, free Wi-Fi, and all the amenities you need to enjoy your vacation.
Book your perfect honeymoon vacation today! 
Share on Facebook