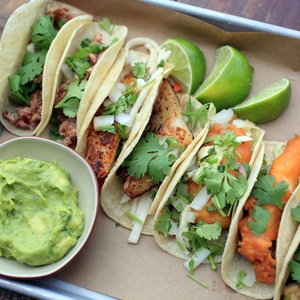 Both Coronado and neighboring San Diego are known for several things: perfect weather, endless beaches, the San Diego Zoo and fish tacos. 
And, we take our fish tacos very seriously. 
In reality, our zeal for fish tacos extends far past delicacy into pure art form. We play with different marinades, explore salsa options, introduce a variety of fish types and make tortillas right on the spot.
Restaurants and food trucks alike pride themselves on the quality of their tacos. Tourists and locals set entire travel itineraries to scout out their favorites. And to help them, the region hosts several competitions each year to try to identify "the best."
To say it's a fierce competition is an understatement.
As adamant taco lovers, that works in our favor! So, for the fish taco enthusiasts, below is your starter guide to discovering your own "best fish taco" in Coronado. 
Night and Day Cafe
http://www.thenightanddaycafe.net 
Menu: http://www.thenightanddaycafe.net/PDF/Day7Aug13.pdf
619.435.9776
847 Orange Ave
This authentic hole-in-the-wall diner serves up primarily deliciously greasy dishes. While a few salads made it onto the menu, we recommend your traditional diner options. Night and Day has both American and Mexican menus. This is great if for some reason your companions don't entertain the same zeal for discovering the beauty of our fish tacos. 
Sometimes simple is better. After all, why mess with perfection? And their Best Seller-Fish Taco is exactly that. Simple. Classic. Delicious. Keeping with the basics, this taco includes fish, lettuce, tomato, cheese and salsa.  Choose between a tostada and a taco.
Miguel's Cocina Mexican
http://www.miguels-cocina.com
1351 Orange Ave
619.437.4237
Miguel's Classic Fish Taco is a tribute to our friends just south of the border and presents a unique twist. Patrons can enjoy exquisite battered white fish fillets beneath a bed of red cabbage, shredded cheese, salsa and ranch dressing. Those looking to explore their options can indulge in the Soroan-spiced swordfish taco. Both these delicacies are encircled in fresh corn tortillas.
Brigantine
http://www.brigantine.com
1333 Orange Ave
619.435.4166
For your luxury dining indulgence, Brigantine offers one of the finest options on the island. Especially for seafood. In line with the luxury surf and turf options, their Ahi Poke Wonton Tacos won't disappoint. They eloquently present sushi grade tuna abed an arrangement of tomatoes, onions, ginger-soy dressing, Asian slaw and wasabi cream. Pushing beyond the confines of traditional, this delicacy is served in a wonton crisp. 
Islander
http://www.islandercoronado.com
1166 Orange Ave
(619) 435-2121
There are two things you will notice once you walk into Islander. This casual eatery enjoys a laid-back atmosphere and features local beer. Both something to be celebrated after a day at the beach if you ask us.
After glancing through their menu, you will need to have a heart-to-heart. Which type of fish is your favorite? 
This is a pivotal decision.
Halibut, Seabass, Swordfish, Yellowtail, Salmon or Pollock? They are all there, just waiting for you to decide. Once you make it through that rough decision, your "Tacone" will feature Chipotle avocado puree, roasted pumpkin seed coleslaw, lime pickled jicama and cilantro. Rather than conforming to classic presentations, Islander serves up your dish in a soft shell rolled into the shape of a cone. 
Costa Azul
http://www.costaazulcoronado.com
1031 Orange Ave
(619) 435-3525
Enjoy the ambiance comparable to that of a secluded island at Costa Azul. A cool breeze and salty air are standard out on the patio.
While they have several fish taco options, a local favorite is the Swordfish Taco. Costa Azul takes extra care in preparing the fish, grilling it with garlic, butter and lemon. Taco aficionados can then choose from two presentation styles: Mexican over rice, beans, salsa and guacamole or Gringo style with mashed potatoes and sautéed veggies. 
Conclusion
While there may be a heated debate as to who offers the best fish taco, there is no debate that Coronado is one of the finest vacation destinations in the country. Especially if you are a fish taco enthusiast.
For your pilgrimage to the fish taco mecca, consider the Coronado Inn. We offer the most budget-friendly lodging on the island. We are also within walking distance of each of these restaurants for your dining crusade.
Even if you don't subscribe to our taco passion, there are other great restaurants to delight your palate. If you are traveling with kids, check out our guide to kid-friendly island dining.
Share on Facebook