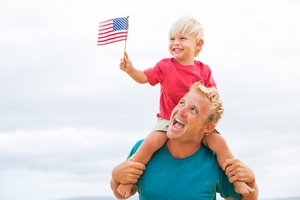 As a proud military community, we take the 4th of July very seriously in Coronado. The festivities start early, and you will enjoy an entire day chock full of flags, music, parade floats, and yes, fireworks. If you've opted to spend Independence Day in the charming Coronado community, here is a list of the day's activities.
Coronado 4th of July Parade
Rise and shine! Dedicated community members head out early to secure their spot along the parade route. You can't officially claim your section of sidewalk until 5 a.m., but many organizers suggest arriving by 4:30 a.m. to be ready to claim your spot when that clock hits 5 a.m. Yes, our parade is so good that countless individuals sacrifice their beauty sleep to secure prime seating for the parade.
The official kickoff of the parade is 10 a.m., so pack a thermos of coffee if you're heading out early. This year's theme is "A Salute to America."
Run, Walk, or Swim 
If you're not the incredibly early bird setting out to put a stake in your parade spot, consider participating in one of the active events of the day. You'll still need to be an early riser to partake.
The Annual Independence Day 12k Run / 5k Walk starts at 7 a.m. from Tideland Park. Registration starts at 5:30 a.m. Register beforehand to catch a few more Zs that morning. Registration is here.
For the water enthusiasts, consider the Annual Rough Water Swim. Taking off from Coronado Beach, they have several different distance options for all swimmer types. Registration and race information is here.
Photos with the Star Wars Society 
If you're quietly biding your time until Comic Con again takes over the city, make your way to Spreckles Park following the parade. The Star Wars Society will be at the park following their parade appearance to take photos with kids and answer your most burning galactic questions. The Coronado Times suggests they will be there between 2:30 and 4 p.m., but the official SDSWS Facebook Event doesn't have a listed time.
Concert in the Park 
A cherished summer Sunday event, the Concert in the Park series makes a debut for the Fourth of July festivities. This year we will be enjoying the Coronado Concert Band for a patriotic display. Bring your dancing shoes as our community takes showing off their moves seriously.
Music starts at 6 p.m. More details here.
The Grand Finale: The Fireworks 
Don't lie; this is really why you are here. You want to see all the action. Well, you're in luck. When you choose to celebrate the 4th of July in Coronado, you get a front row seat to the biggest firework show around, the Big Bay Boom. This Independence Day spectacular showcases firework displays from four different barges in the bay.
Where to Stay
We're not lying when we say that the 4th of July is a popular event in Coronado. The entire community comes out to celebrate. That means parking and traffic will be tight. Avoid the headache by staying at Coronado Inn. We provide free parking for all our guests. Additionally, since we are located in the heart of Coronado you are within walking distance of all the day's festivities. 
Hurry though; we book up early for this beloved holiday. Check out our rooms today.
Share on Facebook