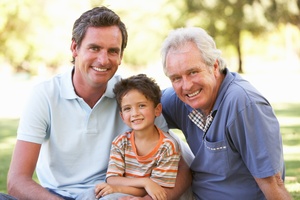 With the onset of summer comes the annual reminder to take an entire day and celebrate everything Dad. This year, we are dedicating June 17th to commemorate the dads in our lives who make everything that much better.
If you're considering taking advantage of the holiday to venture to Southern California, you're in luck! We go all out to celebrate Dad. Here are several activities to consider for both Coronado and San Diego.
Coronado Activities & Events
Power Up at the Beach
From soaking in the rays to lounging near the water to feeding your adrenaline with water sports, you can't go wrong with spending Father's Day at the beach! Whatever fits Dad's style best, you can find it here. From enjoying our golden beach to revving up that wave runner, you can find it all on the island.
Here are some of the best ways to get out on the water.
Golfing
For some dads, there's no better place to spend a relaxing Sunday than on the green. To all the golfing dads out there, Southern California has your number! Between the yearlong golfing weather and the driving ranges with ocean views, you can't beat our greens.
Here's our complete guide to golfing in the area.
Fire Up the Grill 
While countless restaurants on the island will offer specialty Father's Day brunches, take advantage of our never-ending sunshine and fire up that grill. Pick up all Dad's favorite meats to make it a memorable event. 
If you're visiting from out of town, don't worry. At Coronado Inn, we have grills that all of our guests can enjoy.
San Diego Activities & Events 
Father's Day Sail
Saturday, June 17th at 10 a.m.
Take to the seas with the San Diego Maritime Museum. Kick off the event with brawts and a cool beer—for those of age. Then embark on a three-hour voyage aboard the historic Californian or San Salvador. Food starts at 10 a.m. with the event wrapping up around 3 p.m. 
Run a 5.5K
Saturday, June 17th at 8 a.m. 
For all the fitness dads out there, check out the AleSmith Tony Gwynn 5.5K. Sponsored by AleSmith Brewery, this event pays homage to Hall of Famer Tony Gwynn. Once the race is complete, know you'll be enjoying a beer pit stop at AleSmith Brewing Company. 
Wooden Boat Festival
Saturday and Sunday, June 17th-18th at 9 a.m. 
Celebrating a cherished Father's Day tradition, the Wooden Boat Festival gives boat enthusiasts a rare look upon preserved vintage wooden boats along with handcrafted modern vessels. The event features live music, booths, and a stunning gallery. 
Book a Brewery Tour 
With upwards of 90 breweries in the county, give Dad the chance to go behind the scenes and experience where the magic takes place. Contact his favorite ones to schedule tours and enlist a DD to safely visit several throughout the day. 
Check out our San Diego and Coronado beer guide to start charting your adventures.
The Ultimate Weekend Getaway 
What better way to celebrate Dad than to enjoy a family adventure in Coronado, California? With our golden beaches, perfect weather, and plethora of activities, we epitomize paradise in gorgeous Southern California.
Because you want the comforts of home at a family-friendly price, book your stay with us at Coronado Inn. Located in the heart of Coronado Island, you are within walking distance of all your favorite beach activities. Exploring downtown San Diego is just as easy thanks to the Coronado Ferry.
Hurry! Rooms go fast in the summer season.
Check availability for your Coronado getaway now.
Share on Facebook