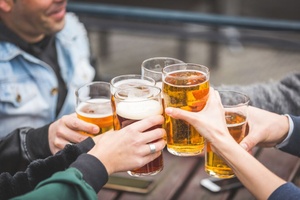 You've heard of the endless stretches of beach, the stunning blue pacific and the colorful array of purples painting the sky in the evening. Those photos and descriptions of San Diego grace every travel brochure.
And why not? It's both appealing and an accurate description of our humble slice of paradise.
The only problem is it leaves the brilliance of our renowned beer community under the radar from travelers. People flock to the beaches unaware that mere blocks away they can enjoy an array of the most scrumptious beers to ever cross their palate.
So for those beer connoisseurs, there are countless beer options here. And it's growing every day with new breweries emerging into the market. To get you up to speed and able to start exploring, here are the major players in the San Diego beer community:
Coronado Brewing
Behold the pride of the entire beer community, particularly on the island. Okay, we might be biased. Either way, this delicacy of the beer world will not disappoint. 
Coronado Brewing offers a wide selection of beers through their different series. That being said, they are known most for specialized ambers and wheat beers, the ultimate craft beer of the region if you will.
You'll identify this savory liquid through the mermaid logo. Their little mermaid logo has affectionately taken on a life of its own with the "Mermaid Legend" Instagram feed and related hashtag #MermaidSighting.   
Stone Brewing 
Inspired by the home brew movement, Stone Brewing prides themselves on their collaborative beer collection. This is one brewery that you can't describe as cookie cutter, but more a constant experiment to perfect the robust flavors possible in your drink.
Between the collaboration beers and limited release editions, it's worth stopping by Stone every time you visit the San Diego region. They always have something new.
We have to hand it to them though; it's not just the experimental beers we admire. Their year round releases are high quality. From the German inspired pale ale to the smoky English porter to the hop obsessed IPA, you're in for a treat with this brewery.
Karl Strauss
Karl Strauss marks the culmination of generations of brewers dedicating their energies to perfecting the craft beer movement. Founder Karl started his beer efforts at Pabst Brewing Company in 1939. After studying beer there for 44 years, he dedicated his retirement to bringing about a new age of craft beers at Karl Strauss.
Today you can enjoy the fruits (or should we say brews) of his labor. While Karl Strauss offers not only seasonal ales but special collections, throughout the year, their four main collections are icons throughout the region.
We recommend the Red Trolley Ale, treating you to a complex medium bodied beer with a hint of toffee flavor. Additionally, you can shake things up with the Pintail Pale Ale and its citrusy pine flavor. 
Lodging for All the Beer Connoisseurs
In reality, there are over 50 different breweries in the region. Any beer lover will need adequate time to savor all the delicious flavors and flare that our beer scene has to offer. It's simply impossible to enjoy all in a day. In fact, we recommend a week to be able to sufficiently appreciate our array of craft beers.
Can't make all the breweries? Don't despair. The majority of our fine dining establishments offer a thorough selection on tap. 
In between brewery tours, we invite you to stay at Coronado Inn. We offer all the amenities you want at a price you can afford. Centrally located on the island, you will be within walking distance of all the desired attractions. That includes our favorite, Coronado Brewing.
Share on Facebook