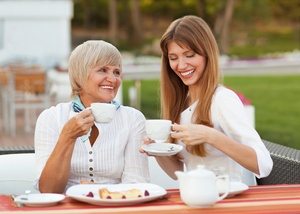 Ah, the cherished Sunday each May where we take time to shower that wonderful woman in our lives with praise, love and even a few thoughtful gifts. If you're scratching your head thinking about the best way to celebrate all the amazing things your mom does, don't worry! We've compiled the complete lineup of Mother's Day happenings in Coronado.
The Coronado Historic Home Tour
For a crème de la crème Coronado experience, immerse yourself in the vibrant history, explore the rich architectural roots, and learn more about the diverse influences that gave rise to the wide raging homes styles giving the island the renowned character it celebrates today. Yes, we are talking about the Coronado Historic Home Tour. 
Every year on Mother's Day, six of our historic homes open their doors inviting community members to savor the finer details and architecture of their abode. 
Enjoy the Island Activities
If you're new to our slice of paradise, get prepared to be slightly overwhelmed. We have countless activities perfect to make this the best Mother's Day ever! Let's start with a few of the classics. You can't go wrong with an entire day dedicated to lounging at the beach. Give Mom a reason to prop up her feet, sit back and enjoy a good book while enjoying the sound of waves crashing in the background. She works hard! 
If Mom wants something more lively, head to the golf course. As one of the premier greens in the region, you'll be pairing breathtaking views with a challenging game right along the water's edge. If you're on a budget, or saving up to spoil Mom with a spa day, check out our free Coronado activities. While the price tag may be slim, the memories will be something you all cherish for decades to come. 
Breakfast Brunches 
Brunches and holidays go together like the beach and flip-flops. It just makes sense. If you and the family want to partake in this delicious tradition, you're in the right spot. Coronado enjoys a plethora of restaurants offering mouthwatering brunches perfect for the family affair. Most island restaurants spice up their traditional breakfast menu for special occasions like Mother's Day. Since it's a very popular tradition, we recommend a reservation.
Here are several restaurants known for their brunches or breakfast offerings: 
For a deep dive on all our favorite breakfast offerings, and a sneak peak at our favorite dishes, check our San Diego and Coronado breakfast guide.
Choosing Your Home Away from Home
If you've been considering making a Mother's Day weekend getaway to Coronado Island, it's time to pull the trigger. Imagine you and your family splashing in the waves, building sand castles along the shore and taking in all the architectural history of our most prestigious homes this Mother's Day. You can't forget about all those mouthwatering brunches.
It's also still the off-season, meaning you can enjoy all of your favorite activities without the summer crowds. Since we enjoy perfect weather year round, there's no reason to put off your trip. Reserve your room today!
Share on Facebook