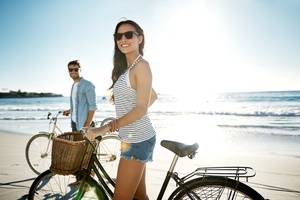 We all know when Labor Day is, but every year, it somehow seems to sneak up on us when we least expect it. One moment we're enjoying lemonade and warm summer breezes, and the next we're in a flurry of activity collecting school supplies, unpacking warm clothes, and thinking ahead to the busy holiday season. Thankfully, Labor Day is a golden opportunity to enjoy one last summer vacation before the rush of a new year begins. 
With pristine beaches, endless sunshine, and numerous options for family-friendly activities, Coronado is a delightful choice for a Southern California getaway. Join us on the island this Labor Day weekend for a relaxing and affordable vacation for the whole family.
Enjoying the Island
The Beach 
It's no secret: Coronado Beach is one of the best in the country! With mile-long stretches of soft, golden sand and sunny skies all year round, it's easy to see why Coronado Beach frequently tops the lists of best beaches in America. 
Labor Day weekend is the perfect time to take a dip in the Pacific Ocean as water temperatures are warmest in early September. So go ahead and book that surf lesson or try your hand at stand-up paddle boarding. 
For those more inclined to relaxing on the beach, nothing beats a good book under an umbrella while the kids enjoy a game of frisbee.
Bike Ride and Picnic
Why not have fun, stay healthy, and explore the island all at the same time with a family bike ride and picnic? Coronado boasts a multitude of parks and beaches that are ideal for picnics, and you can rent bikes for the whole family at Bikes & Beyond in Coronado's Ferry Landing where you can also pick up some scrumptious goodies to pack along for the ride.
Concert in the Park
Coronado's Summer Concert Series is a much-loved summer tradition enjoyed by visitors and locals alike. These free community events bring families together every Sunday night for music, dancing, and laughter in Spreckels Park. This Labor Day weekend, Pop Vinyl retakes the stage to carry the crowd through an evening of boogie-worthy hits from the past five decades. Bring your best dance moves because the locals have been practicing theirs for years!
Exploring Over the Bridge 
Many of our guests enjoy the tranquil atmosphere of Coronado so much, they could easily spend their entire vacation on the island. For those looking to explore farther afield, downtown San Diego offers a wealth of entertainment and nightlife just a 15-minute ferry ride away.
Ferry schedules are available here.
US Sand Sculpting Challenge
Why not find some inspiration for your next beach day at the 8th Annual US Sand Sculpting Competition? This family-friendly event showcases incredible life-sized sand sculptures created by some of the best artists from around the world. Professional sand sculptors will even roll up their sleeves and teach kids the tricks of the trade—be careful you don't fall asleep next time you go to the beach, or you just might wake up buried under a work of art!
Event-goers also enjoy gourmet food trucks, exhibitions of 3D art for homes, and Bubble Fun for kids. In the evenings, some of San Diego's best bands get toes tapping to favorites from the Beach Boys, Bob Dylan, and the Beatles. Rumor has it Elvis might even make an appearance.
From Coronado, take the ferry to Broadway Pier.
Old Town Trolley Tour
San Diego has a charming historic district, and what better way to experience it than on an old fashioned trolley? An adventure for the whole family, Old Town Trolley Tours offers a hop-on-hop-off tour through some of San Diego's most delightful neighborhoods including the historic Gaslamp District, Balboa Park, and Little Italy. The tour even has two stops in Coronado so you can easily hop on at your convenience.
Information on the route and stops along the way can be found here.
Festival of Sail
The San Diego Festival of Sail is the largest Tall Ship festival on the West Coast. Hosted by the Maritime Museum of San Diego, this popular annual event features a parade of tall ships through the sparkling San Diego Bay. The street fair area is free entry to all, and the mock cannon battle in the bay is a suspenseful and thrilling highlight for all ages.
From Coronado, take the ferry to Broadway Pier—the Festival is just a short walk up the beach from the Sand Sculpting Challenge
Make Yourself at Home
With its immaculate beach and small-town flavor, we think Coronado is a perfect home base for your Labor Day vacation.
Conveniently located in the heart of the city, Coronado Inn offers a wide range of amenities to suit your budget and vacation style. Fuel up for a day of adventuring with our delicious complimentary continental breakfast, and enjoy an afternoon or two lounging poolside with a movie streamed to your mobile on our complimentary WiFi. Families who like to cook together may take advantage of our full kitchen suites, and we even welcome your furry family members in our pet-friendly rooms.
But the best part? New memory foam mattresses in all our rooms help you get a peaceful sleep so you return from vacation relaxed and refreshed.
Ready for vacation mode? Reserve your room at the Coronado Inn today.
Share on Facebook