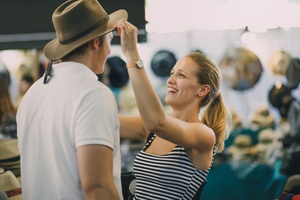 Planning a trip is heaps of fun. Imagine the sights you will see, the food you will eat, the things you will do. But what will you wear? It can be difficult to know if you have never been to your destination before. Luckily, we are here to help you with that.
With over 265 days of sunshine per year, Coronado and San Diego are blessed with some of the best weather in the country, even in winter. If this is your first visit to the area, we can help demystify what to pack to ensure you are dressed appropriately to enjoy your holiday.
At the Beach
Welcome to the best beach in the country! We are not exaggerating. Time and time again, Coronado Beach tops the lists of best beaches in the country. With clear water, soft sand, and spectacular sunsets, Coronado Beach is sure to be a hit with the entire family. 
For a wintertime beach visit, loose pants that can be rolled up at the cuff and easily removable shoes are both fashionable and practical. It may be too chilly to get in the water without a wetsuit, but strolling along the shore is a lovely way to spend an afternoon or evening.
You won't be able to resist squishing the soft, golden sand between your toes, so shoes you can easily remove such a flip flops or slip-on sandals are a life-saver. And once you've wiggled your toes in the sand, we wouldn't be surprised if you can't resist dipping them into the Pacific Ocean too. So roll up your pant legs and enjoy an ankle-deep wade without worrying about your clothes getting wet.
On a Day Trip 
Coronado is just a hop, skip, and a jump (and by that we mean a short ferry ride) from downtown San Diego. If you are exploring the city on foot or venturing into the surrounding areas by car, we have a few tips for what to wear to stay comfortable.
Day trip fashion tip #1: Layers are your best friend. While it may be gloriously sunny outside, you never know when you might find yourself in an indoor area so air conditioned, you wonder if you even went on vacation at all. A light jacket or cardigan sweater over a short-sleeved top helps you stay warm in overzealous air conditioning and can be easily removed when you find yourself back in the sunshine.
Day trip fashion tip #2: Comfort is key. Exploring new places, especially ones with beautiful weather like San Diego and Coronado, often involves much more walking than we expect. Be kind to your body and choose a pair of shoes that are comfortable to walk in. Your feet will thank you later.
To a Special Event 
Destination weddings are becoming increasingly popular as today's new couples like to combine their celebrations with vacations for the whole family. 
Ladies attending a beach wedding will look spectacular in a long, flowy dress in a floral pattern or colorful solid. Flat, strappy sandals are an excellent footwear choice as you will be walking in sand, and a pashmina or scarf will come in handy to wrap around your shoulders if a cool breeze picks up.
Gentlemen at a beach wedding will look dashing in a linen suit or khakis and a white button up. 
If the reception is to be held at a local restaurant or hotel, it is worth calling the establishment ahead of time to see if they uphold a dress code, such as requiring a jacket or tie.
Spending Time with Family
Family vacations are rich with opportunities to snap photos of each other having fun in new places. For a lasting memento of your holiday, and perhaps an addition to your annual Christmas card, consider having a professional photographer capture some special moments of your family on vacation. We've even catalogued the top spots to capture that special moment.
Deciding what to wear in family portraits is easy when you choose a theme and everyone wears their own matching clothes. For example, jeans and white tops look fantastic in family photos. Other ideas are plaid shirts and dark pants, a tropical shirt theme, or even a family collection of humorous t-shirts.
Get Dressed at the Coronado Inn
No matter what you are wearing, it is how you feel that will determine how much you enjoy your vacation. At Coronado Inn, we provide all the comforts of home so you can wake up each day feeling rested and refreshed. Our memory foam mattresses ensure you get sufficient beauty sleep, and our complimentary continental breakfast is a delicious way to start the day. When you aren't exploring the city or attending a special event, you can relax by the pool, take advantage of our complimentary WiFi, or host a family dinner on one of our BBQ grills. Serious grillers can even bring their own apron and chef hat.
Coronado is a popular winter vacation destination, and our rooms fill up quickly, so book yours today!
Share on Facebook