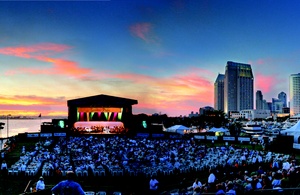 After another brutal winter here in San Diego, summer has finally arrived.
Did you catch the sarcasm there? Come on, you know it's always beautiful in San Diego. But despite the comfortable weather year-round, summer is especially invigorating. Between the beaches, sunshine, baseball and unlimited outdoor fun, you could easily fill a week's stay without even realizing it—and that would be totally fine. Don't forget your summer concerts, though! San Diego is the perfect place to spend a summer night singing and dancing your heart out.
Even with a few weeks of summer already under our belts, there are still quite a few summer concerts left on the schedule. Here are four that we recommend:
Summer Pops
Undoubtedly the headliner of San Diego's summer music scene, the Ashford University Summer Pops is a 10-week outdoor concert series by the San Diego Symphony running from just before the 4th of July through Labor Day. Concerts are hosted at Embarcadero Marina Park South near the San Diego Convention Center—a quick, scenic ferry ride from Coronado Ferry Landing. 
Summer Pops is a unique experience that brings a rare fusion of classical and popular music to a festival-like atmosphere with food and fireworks. This year's performers include LeAnn Rimes, Natalie Cole, Ben Folds, and Cary Hoffman with a tribute to Frank Sinatra. The symphony will also play live scores to big-screen projections of Bugs Bunny and Pirates of the Caribbean. 
Coronado Promenade Concert Series
Who says you can't enjoy a summer concert right here in Coronado? The 2015 Coronado Promenade Concert season is underway with a fresh lineup of local acts representing just about every genre. Located three blocks from the Coronado Inn, the free Sunday concerts at Spreckels Park are great for a family picnic. Coronado's favorite concert series is going 45 years strong and has become a staple of the island's summer vibe. 
La Jolla Concerts by the Sea
Here's another one to bring the kids to: La Jolla Concerts by the Sea. These concerts are held on Sunday afternoons from 2 p.m. to 4 p.m. at gorgeous Ellen Browning Scripps Park overlooking La Jolla Cove. Snacks and raffle tickets are available for purchase. La Jolla is a little farther out than many prefer to venture while staying in Coronado, but the coastal scenery in this affluent coastal neighborhood is certainly worth the trip.
Twilight in the Park
Balboa Park is home to the world-famous San Diego Zoo, and it's also home to the Twilight in the Park free summer concert series. Every Tuesday, Wednesday and Thursday evening through the end of August, live music rocks the stage at Spreckels Organ Pavilion. Twilight in the Park is yet another family-friendly, prime-for-a-picnic option that the kids will love, especially if you tie it in with an afternoon trip to the zoo. Balboa Park is a 10-minute drive or cab ride from Coronado via the San Diego-Coronado Bridge and State Route 75 North.
Your Gateway to a San Diego Summer
With a beach town atmosphere and easy access to all of San Diego's summer events, Coronado is your ideal California getaway. The Coronado Inn offers clean, quiet, budget-friendly accommodations in the heart of Coronado, so you can enjoy an island vacation just minutes from a world-class city. Click here for more things to do in Coronado and San Diego. 
Share on Facebook