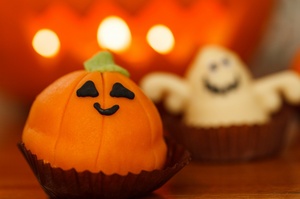 Summer gets most of the attention in San Diego, and with good reason. After all, who doesn't want to spend at least a week or two of their summer soaking up the sun or frolicking in the sand and surf in Southern California? 
San Diego is by no means a strictly-summer destination, though. In fact, we'd argue that fall here is just as awesome as summer. Though slightly cooler, the weather is still flawless, and the change of seasons brings with it a wave of fun Halloween activities, including:
The Whaley House Museum
Constructed in the 1850s, settler Thomas Whaley's former home in Old Town is a California State Historic Landmark that attracts more than 100,000 visitors annually. Many of them visit around Halloween to experience what the Travel Channel and LIFE magazine have both dubbed as "the most haunted house in America." The Whaley House has been featured and portrayed in countless TV documentaries, and the stories of rumored hauntings are extremely fascinating.
Naturally, the museum amplifies its ghostly attributes for Halloween with a variety of ghost hunting tours and screenings.
Haunted San Diego Tours
One of San Diego's most popular ghost tours, Haunted San Diego invites you to discover "the most haunted city in the West" from the comfort of a non-haunted tour bus. Listen to your costumed tour guide's chilling true tales of haunted landmarks throughout Downtown and Old Town San Diego (Whaley House included). Haunted San Diego tours are available year-round, but Halloween makes them uber-spooky. 
SeaWorld San Diego's Halloween Spooktacular
What would a family trip to San Diego be without a visit to SeaWorld? The theme park's Halloween Spooktacular offers an array of lighthearted Halloween fun for the kids to enjoy, including animal shows, meet-and-greets, familiar characters and trick-or-treating.
The Boulevard BOO! Parade
A parade of goblins, ghosts, zombies and kooky characters stomping through Downtown San Diego—what a sight to see. San Diego's only Halloween march, the Boulevard BOO! Parade is tons of fun for everyone. Don't miss Boulevard BOO! 2015 on Oct. 25th from 10 a.m. to 12 p.m. After the parade, stick around for live music, food trucks, refreshments and carnival rides.   
Balboa Park Halloween Family Day
In late October, beautiful Balboa Park hosts a family-friendly Halloween celebration in which museums and attractions from all over San Diego share crafts, tours, stories and contests. Kids under 12 enter free with a paid adult. From the San Diego Air and Space Museum's annual pumpkin drop to an endless assortment of activities and entertainment, Halloween Family Day is the perfect way to spend a crisp, sunny fall afternoon getting the kids excited for trick-or-treating. 
Boomont Park
You don't have to journey up north for a pumpkin patch; you can pick your perfect pumpkin right in Belmont Park (excuse us, Boomont Park for that matter), San Diego's nostalgic oceanfront amusement park. The pumpkin patch is just the beginning, too. The month-long festival also has free trick-or-treating for the kiddos, a haunted house, laser tag, weekly costume contests and more. Now that's what we call some spooky fall fun!
A Safe Haven
With all of the Halloween happenings in San Diego, you're going to need a cozy and ghoul-proof place to get a good night's sleep. You'll be safe, sound and a bay away from the mayhem when you stay at the Coronado Inn, your family-friendly home away from home on Coronado Island. Be careful out there!
Share on Facebook